Registration Form
Deeper Funner Virtual Facilitation Boot Camp
FIVE LIVE, HANDS-ON VIRTUAL CLINICS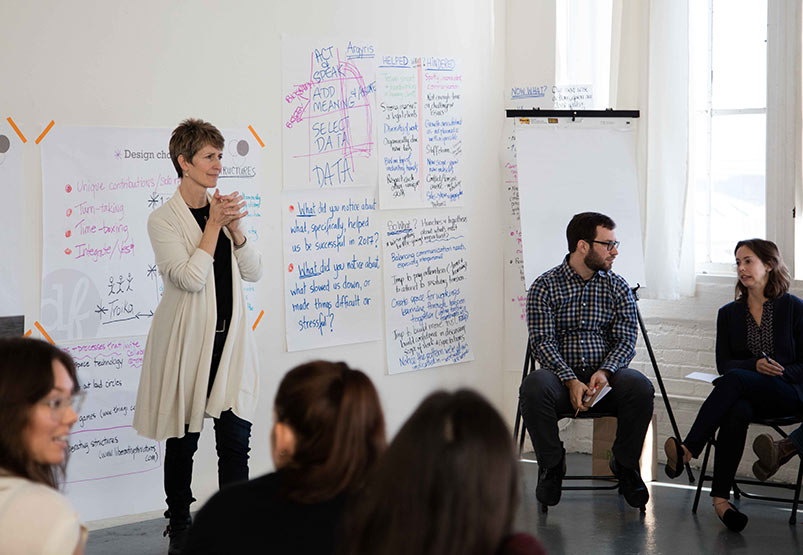 Want to make your virtual meetings wildly effective, connective, and fun?
This fall, join us for something game-changing you can take back to your job pronto. Learn how to make your virtual meetings stand out - not just because they're energizing, but because they're also crazy effective.
Meetings have always been a challenge to get right. Now that our meetings are largely virtual, the challenges are amplified. The good news: It doesn't have to be that way. (Spoiler alert: Desperation with virtual meetings may actually work to your advantage, propelling your teams and clients to want to try different approaches.)
These five clinics can be taken individually or as a discounted series. Each clinic is 90 minutes long. Whether you attend a single clinic or all five, a free one-hour capstone reflection session open to all participants enables additional cross-course sharing and inspiration.
These courses equip you with:
A robust diversity of approaches – principles with practical processes and tools – for a variety of audiences
Case studies and examples
Links to other helpful resources and activities for facilitating groups
Nice-to-knows:
Because of its wide adoption and breakout room functionality, we'll be working in Zoom; as other platforms catch up, and breakout functionality increases in MS Teams and others, the approaches should translate well.
There is no pre-work for these sessions, but we do encourage previewing this 90-minute webinar from April 2020 to enrich your experience and begin building techniques.
Due to the highly interactive nature of these workshops, we will not be sharing recordings. If you purchase a spot, plan to attend live! We also request that you join the meeting with both video and audio capability and keep your camera on.
Deeper Funner Virtual Facilitation Boot Camp
#1 – Break the Boredom & Bring Virtual Meetings Alive
Thursday, October 22, 12–1:30pm ET (9–10:30am PT)
Learn facilitation exercises that keep workshops and meetings engaging and productive, and build a back pocket full of interactive discussion frameworks you can draw from and riff on. You'll take away three core principles for maintaining energy and attention. We'll explore ways to break out of the physical trap of chair/desk/screen by weaving in physical interaction, curated energy breaks, walk-and-talks, and more. You'll walk out with several best practices for gathering swift, generative feedback from a group, as well as making one-way presentations - including educational sessions - sticky and engaging, two-way experiences.
#2 – Problem-Solving, Generating New Ideas, and Developing Consensus: How Can I Facilitate for Group Genius?
Thursday, October 29, 12–1:30pm ET (9–10:30am PT)
Research shows us groups can outperform even their smartest individuals, but only when they're interacting in a specific way - it's called collaborative intelligence, or group genius. Everybody wants this, but how can you make it happen in virtual meetings? In this session, get an introduction to the principles of group genius and learn exercises for applying them to three things groups often need to do: problem solve, come up with new ideas, and create consensus. In addition to walking away with practical tools you can take and use immediately, you'll learn the must-haves and pitfalls that make or break success when facilitating a group to unleash group genius.
#3 – Virtual Meeting Pro Tips: Setting Expectations, Effective Agendas, Whole-Group Conversation, Reading the (Virtual) Room, and More
Thursday, November 5, 12–1:30pm ET (9–10:30am PT)
This is a lean-and-mean, straight-up-no-fluff session with best practices and magic tricks for places facilitators commonly struggle in virtual meetings. Includes pro tips for these typically tricky areas, as well as an open question-and-answer session where you can bring your own:
How do you set the right tone and expectations for a virtual meeting, to up the likelihood of focus and effectiveness?
What are agenda best practices - and what if there's no agenda?
What are top tips for productive whole-group discussion?
How can you read the (virtual) room when you're "talking blind" (and can't see everyone)?
How do I make sure that a "quick round" is truly quick? And if someone's going on and on, how do I make it stop?!
What should I do if… [your question here]?
#4 – Unleash an Untapped Resource: Everyday Meetings that Rock
Thursday, November 12, 12–1:30pm ET (9–10:30am PT)
There's a shortlist of standing meetings people struggle to make worthwhile, especially virtually. Get meeting templates you can riff on and hot tips you can use immediately to boost your team's progress. Includes basic principles and formats for facilitating bread-and-butter meetings, including:
Daily or weekly team stand-up
Dynamic and high-value team/project tactical meeting
Strategic problem-solving/decision meeting
50% or 100% review "lessons learned" meeting that enables smart adjustments moving forward
#5 – How to Facilitate an Effective Virtual Design Charrette
Thursday, November 19, 12–1:30pm ET (9–10:30am PT)
Join us for an exploration of how to translate a design charrette to the virtual world. Whether your charrette is focused on conceptual direction, technical problem-solving, both or more, facilitating it is a big undertaking. Going virtual introduces even more complexities.
To begin cracking this nut, we'll take two approaches. First, we'll draw from design charrette best practices in the face-to-face world and share options for executing them well online. Second, we'll hear firsthand the good, the bad, and the ugly from several senior design leaders, drawing on their experiments and learnings from the past six months.
BOOTCAMP CAPSTONE (BYOB!): The Power of a (HAPPY) Hour for Cross-Course Sharing, Reflection, and Peer Inspiration
Friday, November 20, 4–5pm ET (1–2pm PT)
The experts agree: Learning is social. Eager to learn from your amazing member peers, even about sessions you didn't attend? Want the incomparable learning that comes from having smart colleagues poke and prod what YOU have learned?
This one-hour, facilitated capstone enables participants across workshops to share reflections and take-aways so they "+1" their session learning. We believe so strongly in the power of the hour that it's gratis and an all-play, open to all — whether you attended one course or five. Join us!
About Julie Huffaker
Julie Huffaker is a Principal and Founding Partner at a strategic consultancy, Deeper Funner Change. Julie designs and facilitates group and team working and learning sessions that help leaders, teams and organizations outperform themselves by cultivating the habits and practices of group genius. Deeper Funner Change is influenced by Julie's groundbreaking research on how organizations successfully go from top-down, command-and-control to radically collaborative cultures.
She's been to school: Cultural Anthropology (MA); Business (MBA); Human Development (MA); Organizational Leadership & Change (PhD). She brings both passion for what she does and 25+ years of experience.
Choose your Workshops
Select either Individual Workshops OR the COMBO