Blog Post
239 strawbale buildings in France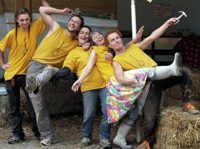 A post came through one of the too-many email lists I monitor: the nonprofit
Empreinte
(
"print"
—as in "footprint"), in conjunction with the French straw building network,
Les Compaillons
, started an
online database of French strawbale buildings
, and have so far registered 239 of them. France is smaller than Texas by about the size of Illinois, and is one of the places where strawbale building wasn't unheard of prior to the current growing worldwide popularity: a 1921 timber framed house with baled straw infill stands occupied today in reportedly excellent condition. If that floored you, here's another tidbit:
China has over 600 strawbale homes, schools, and medical clinics
, thanks in large measure to the educational and field work of architect
Kelly Lerner
(we're proud that she's an
Environmental Building News
aficionado) in conjunction with the
Adventist Development and Relief Agency
. The
International Strawbale Building Registry
(hosted by the pioneering folks who brought the
Sustainable Building Sourcebook
of the
Austin Green Building Program
online in 1994 and have been maintaining and expanding it ever since), though far from being a complete record, is interesting and enlightening to buzz around in. It's easy for many people to dismiss straw bales as a building element for their vulnerability to moisture. Fair enough. But, same as anything, design and execution needs to be appropriate for the materials and climate. Most straw is pretty much identical to most wood under the microscope: they're both ligno-cellulosic materials that biodegrade under the same confluence of moisture, temperature, and air. But that's about where the similarities between a straw bale and a piece of dimension lumber end. Done right, done well, strawbale works—done wrong, done sloppy, problems ensue. (Generally speaking. There are places in the world where you can just about build with crackers and frosting and get a few good years out of it... as well as places where strawbale would be a sketchy idea at best.) And, particularly if the goal is to emulate the contemporary suburban tract house, building with bales isn't as simple and cheap as sometimes claimed. Having a background in conventional construction doesn't guarantee an understanding that these degradable bundles of cereal stem are a radically different animal than stuff from the builder's supply yard. Some of the most poorly conceived and poorly built strawbale houses have been the product of reputable, knowledgeable, experienced conventional builders. But so, too, are some of the best ones. Same can be said for the "uneducated and undisciplined" self-build crowd: some results are world-class, while others are just scary. There are analogies to be drawn here from the early solar design movement. Education is the thing. No building material or method cares all that much who you are or what you've done before. Strawbale building is still in its infancy, but startling inroads have been made in understanding what does and doesn't work, both in the field and in the lab, despite not having any deep-pocketed industries supporting it. Adding to the research legacy begun (and still continued) by the
Canada Mortgage and Housing Corporation
(search the word "straw" from their home page), some of the most excellent research of the material in North America over the last few years has had the California-based
Ecological Building Network
at its hub. Check out the
11-minute video
of two strawbale wall variants going through ASTM E119-05a—passing the fire and hose stream tests, one achieved a one-hour rating, and the other a two-hour firewall rating. A fascinating
roundup of international testing
can be found at the open-source
Straw Bale Construction Wiki
; and
The Last Straw
also tracks
Codes, Testing, and Research
and
other resources
.
Selections from the BuildingGreen Suite, in chronological order:
In the photo: mobile French strawbale educators and builders, Botmobil.
Published November 1, 2007 Permalink Citation
(2007, November 1). 239 strawbale buildings in France. Retrieved from https://www.buildinggreen.com/blog/239-strawbale-buildings-france