Championing the changemakers
BuildingGreen champions the changemakers in sustainable design and building, with trusted insight, unparalleled education, and communities that are transforming the industry.
Log in to your profile
Image: Piranka

BuildingGreen champions the changemakers in sustainable design and building.
BuildingGreen is the essential source where trusted insight resides, knowledge is shared, unparalleled education takes place, and thought leaders interact in transforming the sustainable building movement. As champions of the leaders driving meaningful change within and across the movement, we advance the progressive edge between a healthy & resilient built environment and a thriving, equitable world. That makes us your most effective partner in building excellence, furthering your career and offering supportive, encouraging communities.
Recent Content
Feature article
ESG: 6 Things Building Professionals Need to Know
Lendlease, which is targeting elimination of scope 1 and scope 2 emissions by 2025 and scope 3 by 2040, worked to reduce embodied carbon in Claremont Hall. The project team reduced concrete emissions 33% and reinforcing steel 28%. (Photo: Lendlease)
Clients need AEC professionals to help them achieve environmental, social, and governance goals. Here's how people are turning aspirations into strategies.
Read More
Feature article + CEU Spotlight Report
We Must Decarbonize Existing Buildings by 2050—but How?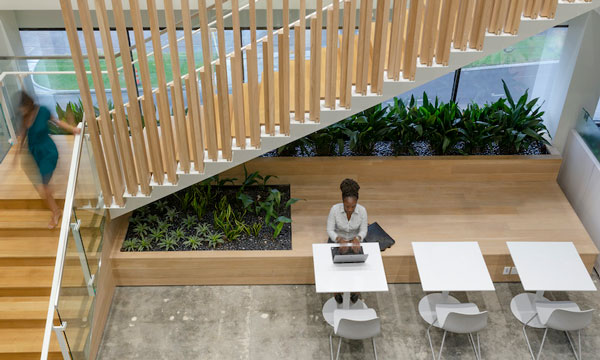 Working with the Louisiana Workers' Compensation Corporation, EskewDumezRipple slashed energy use and carbon emissions of a 1980s building—primarily by focusing on the occupant experience. (Photo: Sara Essex Bradley)
Deep energy retrofits and existing building electrification are critical to curbing carbon emissions. Here's how to make the case and get it done.
Read More