Championing
Sustainability
We champion sustainable design and building, helping leaders understand what's important when selecting sustainable products and materials for projects—and what to avoid.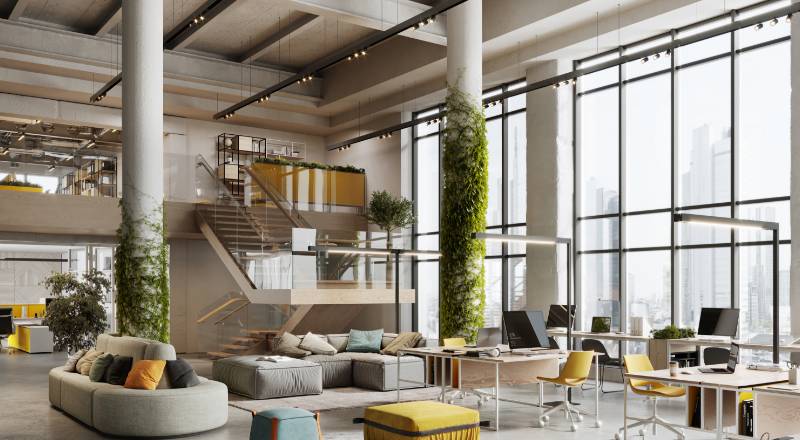 We're more than a database. Our objective professional content delivers the context you need about why one product is better or worse than another, which have performance limitations, and which don't meet code.

We accept no advertising in creating our thoughtful, rigorous analyses and informative, unbiased guidance. Our goal is to offer professional assessments that help move all of us toward the more sustainable and equitable world we envision.
---
ENHANCED PRODUCT CATEGORY INSIGHT
We identified the most popular product categories and produced enhanced product guides, which provide extra detail on choosing sustainable products and materials for your project.
---
Browse all 160 product categories:
Indicates enhanced product category guides
---
BuildingGreen Product Vetting services
If you just want answers without having to do all the research, check out our Product Vetting services. We've already done the work, so we know what to look for in every category (and what to watch out for). Save time and budget by hiring our product experts.
Learn more »
---
Advice for Product Manufacturers
If you're a product manufacturer looking to raise your profile in the sustainability marketplace, BuildingGreen can help. We know what's needed for LEED, WELL, and Living Building Challenge, and our friends at SMS Collaborative can take you even further. Browse our online resources and learn how to serve this growing market segment.
Learn more »
---
Find approved products on Designer Pages
BuildingGreen Approved, like its predecessor, GreenSpec, is an independent product evaluation service for BuildingGreen members. We offer an unbiased look at products: BuildingGreen does not accept any manufacturer fees for our evaluations. Here's a quick tour of the platform and how to use it.
1. Using BuildingGreen product guides
Our editors have prepared more than 160 easy-reference guides to choosing green products, divided by category. Just scroll above and choose a product category.
For example, click on "Flooring & Floorcoverings" and then on the "Modular Carpet" product guide. Note the following features:
Detailed guidance on what makes a modular carpet product green
A link to our modular carpet Collection of BuildingGreen Approved products
More BuildingGreen articles on the topic
When you click "Find Products in this Category" you will be taken to Designer Pages. If this is the first time you have accessed Designer Pages, you will be taken through a registration process.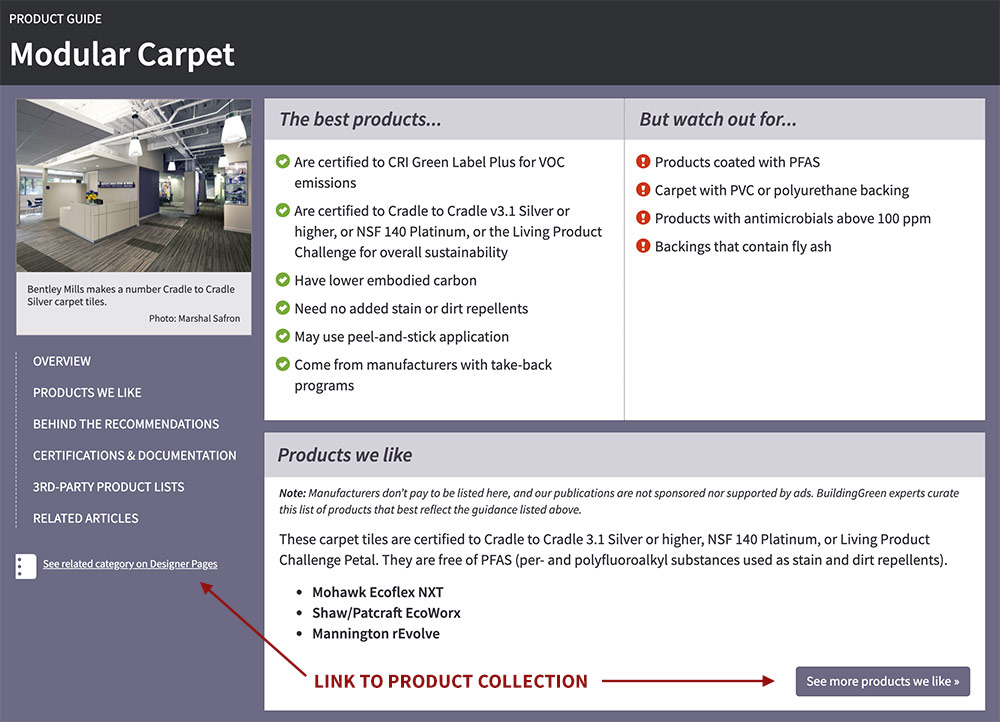 2. Viewing a collection on Designer Pages
Clicking on the "See related category on Designer Pages" link will take you to the corresponding Collection on Designer Pages. On a Collection page you can:
Read a brief description of how we picked products for it
Click through to BuildingGreen.com for guidance on the product category
View specific products for more detailed information
Use list or grid views to see products
Sort products based on product name, company name, CSI section, recently edited, and recently saved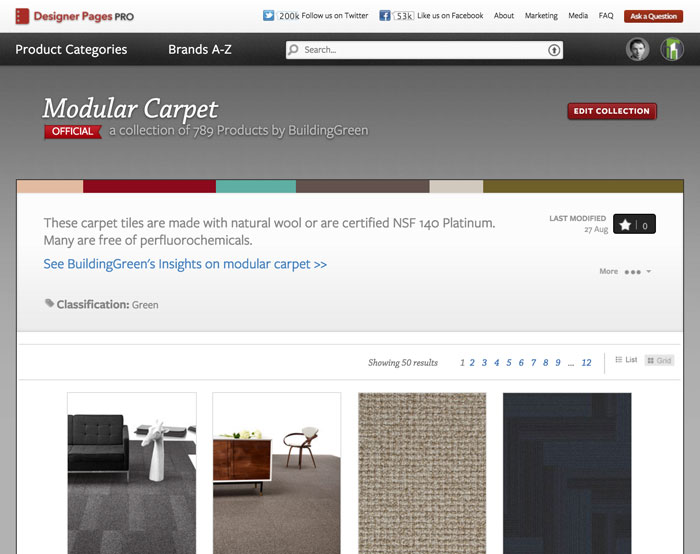 3. Product pages on Designer Pages
Here's an example of a product page on Designer Pages, with BuildingGreen's guidance included. Note the following features:
The BuildingGreen Approved logo with the product name
BuildingGreen's guidance about the product and why it's green
A note that the product has been added to the "Blown Insulation" Collection. Clicking on that Collection title will bring you more similar products, and information on BuildingGreen's criteria for that product category.
Note: "Monarch" is a sample firm name. When using Designer Pages, your firm or company name will be displayed instead.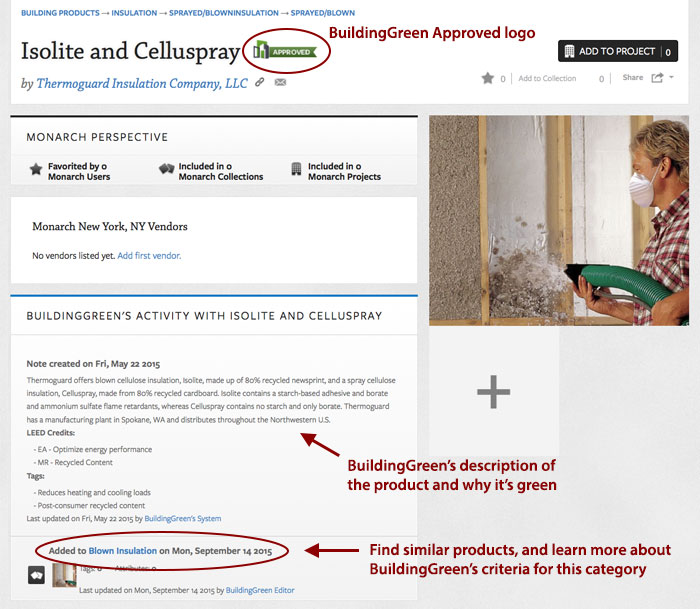 4. Browsing collections on Designer Pages
To find Collections from the Designer Pages homepage, click on Collections in the drop-down menu, or in the menu in the right sidebar.
When not on the homepage, use the drop-down menu to find Collections.
Note: "Monarch" is a sample firm name. When using Designer Pages, your firm or company name will be displayed instead.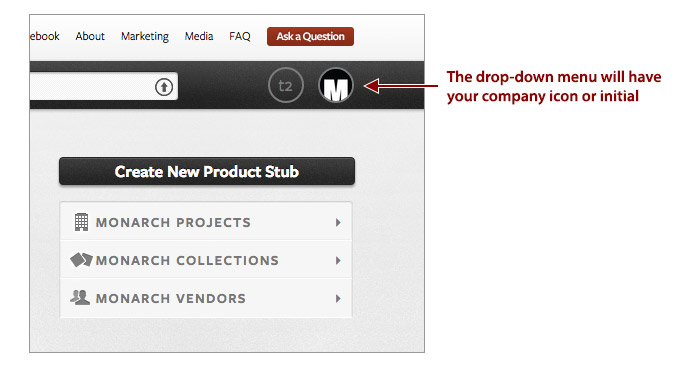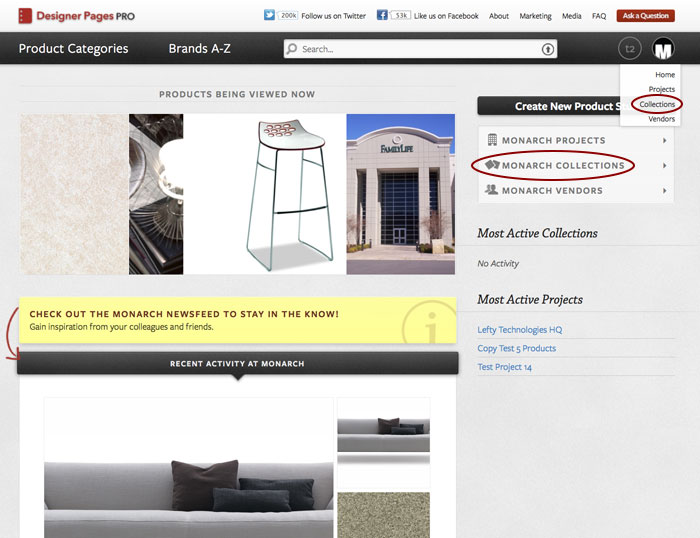 5. Navigating collections
On the Collections page, you can create your own product collections here in addition to accessing "BuildingGreen Collections" containing BuildingGreen Approved products and guidance.
You can search for specific Collections, or use the Classification drop-down to find Collections of specific types, including Green, Ungreen, and LEED.
Note: "Monarch" is a sample firm name. When using Designer Pages, your firm or company name will be displayed instead.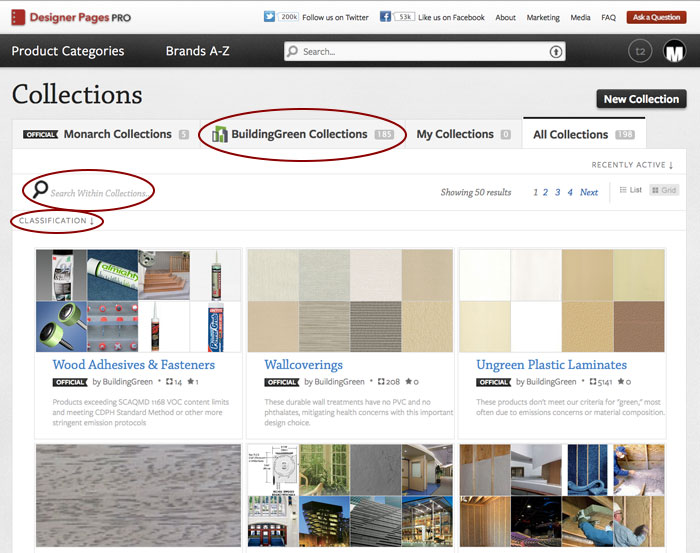 6. Navigating by product category
Another way to navigate products on Designer Pages is to use the product category menu.
Please note that this menu does not include all product categories—only those with a high number of products. You can also use the search bar to find products and product categories.
Note: "Monarch" is a sample firm name. When using Designer Pages, your firm or company name will be displayed instead.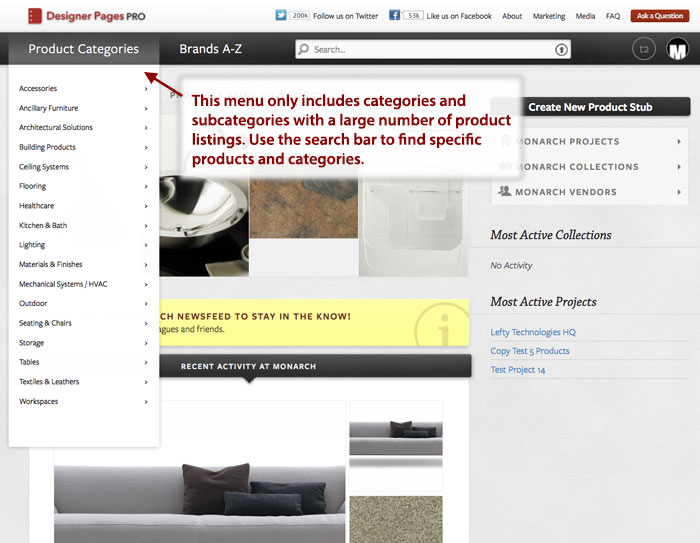 7. Viewing a product category
We've selected Modular Carpet as a product category to view in more detail.
Note the BuildingGreen Approved filter in the upper right, and other filters in the right sidebar that are "off" in this view. In this view we are looking at all 1,938 modular carpet products that appear in Designer Pages.
Note: "Monarch" is a sample firm name. When using Designer Pages, your firm or company name will be displayed instead.
You can turn the BuildingGreen Approved filter on to see only products that meet our criteria, according to our product guidance.
You can use the transparency filters to narrow your search based on other criteria. For information on how each of these filters work, please see this FAQ.
We appreciate your trust in our product guidance! Please feel free to contact us with any questions we haven't answered here or on our FAQ.