Looking for healthy and sustainable building products?
BuildingGreen's got you covered.
Our product guides tell you exactly what to look for
BuildingGreen's independent team of editors has compiled guides to more than 100 product categories, to help you learn what to look for when selecting green products that avoid negative health impacts. You can browse our guides below.
We can help you find products for your LEED or WELL project
If you just want answers without having to do all the research, check out our Product Vetting services. We've already done the work, so we know what to look for in every category (and what to watch out for). Save time and budget by hiring our product experts.
Appliances
Caulks & Adhesives
Electrical
Exterior Finish & Trim
Flooring & Floorcoverings
Furnishings
Interior Finish & Trim
Mechanical Systems/HVAC
Miscellaneous
LEED and Editors' picks
Paints & Coatings
Plumbing
Renewable Energy
Roofing
Sitework & Landscaping
Structural Systems & Components
Thermal & Moisture Protection
Windows & Doors
BuildingGreen + Designer Pages
The designer's tool for finding healthy, greener building products
Watch this brief (and delightful!) video to learn about our green product listings.
What you'll find on Designer Pages:
BuildingGreen collections
You'll have access to more than 100 curated collections containing the best green products out there—along with some collections warning you which "ungreen" products to avoid.
Confused about material choices for LEED v4? Overwhelmed by data on material ingredients and impacts? Let BuildingGreen guide you to the products you need and give you the tools to explain those choices to colleagues and clients.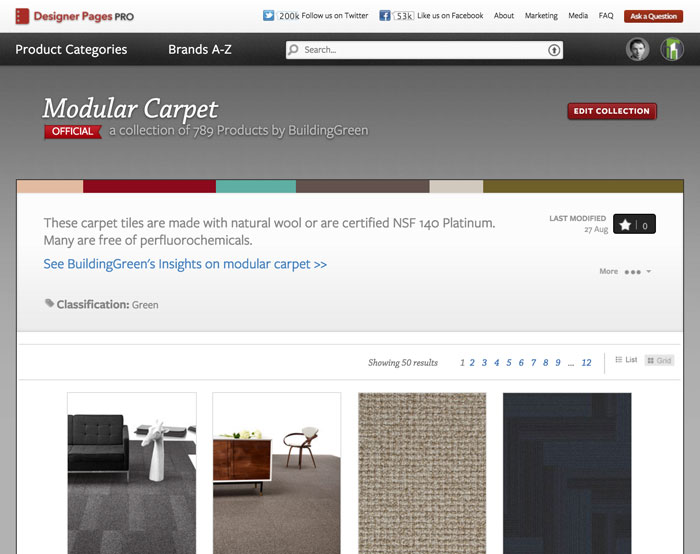 BuildingGreen search filters
Activate the BuildingGreen filter while browsing products in Designer Pages, and you'll see only the best-in-class products that meet our strict sustainability requirements. Our independent team (BuildingGreen takes in no advertising fees) carefully reviews each product so you can be confident the results are greenwash-free.

Green product details—including LEED credit eligibility, EPDs, and HPDs
You'll see our editors' take on every product in our green collections, along with a list of applicable LEED credits. We also vet health and environmental product declarations when available. An executive summary of BuildingGreen's criteria in each product category is just a click away, along with access to deeper resources. You'll get the context of our top experts as you effortlessly choose products with the design features you need.