Blog Post
FSC-certified bamboo? Yes.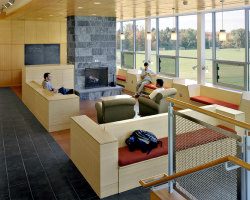 Smith & Fong's bamboo plywood panels are now available with FSC-certified bamboo.
If you're a regular reader of the posts here on BuildingGreen.com LIVE, you might remember that we had a couple folks from Smith & Fong in our offices back in January. That was when we first got wind of their pending FSC certification — for bamboo. But it wasn't a done deal. Now BuildingGreen is pleased to be the first to report the breaking news that FSC certified bamboo plywood is on the ground and available for specification. Though Smith & Fong isn't releasing the news until next week, they've given us the scoop and the go-ahead to tell all. Read the story FSC-Certified Bamboo Plywood Now Available.
Published April 11, 2008 Permalink Citation
(2008, April 11). FSC-certified bamboo? Yes.. Retrieved from https://www.buildinggreen.com/blog/fsc-certified-bamboo-yes