Blog Post
How Window Screens Affect Winter Fuel Use in Heating Climates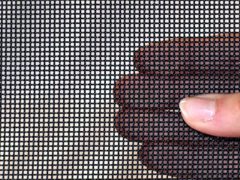 The
Midcoast Green Collaborative
is a Maine-based public nonprofit with the wide mission of socially responsible economic growth for their region. There's also an associated
good blog with a high percentage of building-based posts
— lots of nice, accessible, generally bite-sized, hands-on observational science.
One swell example
begins, "Do you leave the screens in your windows and storm windows during the winter? We have been telling clients to remove them, but didn't have a number for amount of energy saved. Searching the web, I found nothing, so I decided to do a little testing..." Excerpt:
Next, I placed three pieces of dark soapstone (12 x 12 x 1/2 tiles) near a window facing south, on a sunny March day around noon. One piece was placed in the shade, one in direct sunlight (through the window), and one with the screen in the window. I came back and measured the temperatures of the three stones with an infrared thermometer from a distance of about 1 foot. The shaded stone measured 76.7ºF, the one in the screened window 88.7ºF, and the one in the unscreened window 96.7ºF.
From this it would appear that leaving screens in windows or storms during the winter block about 30-40% of the heat that would otherwise enter through the windows. Audits have the amount of heat obtained from passive solar through windows ranging from 10-25% of the fuel based heating. So, window screens represent somewhere between 3-10% of total fuel.
Of course, in climates and seasons where solar gain isn't wanted, there's an inverse corollary.
There are interior and exterior window shades listed in GreenSpec
. The section introduction says:
Window shades, blinds, and other treatments can control daylight penetration and significantly reduce heat loss or heat gain through windows. In commercial buildings, engineered window shading installations can be part of an integrated design strategy addressing glare, heat gain, and solar penetration. In residential buildings, insulating window blinds and quilts may be appropriate retrofits for older, leaky windows, when window replacement can't be justified. In new construction or when replacement can be justified, installing high-performance windows is usually a better option than investing in energy-conserving blinds or shades.
Published January 20, 2009 Permalink Citation
(2009, January 20). How Window Screens Affect Winter Fuel Use in Heating Climates. Retrieved from https://www.buildinggreen.com/blog/how-window-screens-affect-winter-fuel-use-heating-climates