Blog Post
Hydronic Radiant Floor Heating Retrofits
In his book Your Green Home, Alex Wilson refers to radiant floors as "a great heating option for a poorly designed house." He goes on to explain that the heating requirements of an extremely well-insulated home with a properly airtight envelope, even in most cold climates, will most likely result in an overheated house if the radiant floor is warm enough to actually feel warm underfoot — which is the main selling point of these systems. If passive solar is a design feature, the slow response of high-mass radiant floor systems can also contribute to overheating. The expense of a wall-to-wall radiant floor system would generally be better spent, he says, on improving the envelope's insulation and airtightness, and downsizing the space conditioning system, particularly in new construction. For more information, see the article "Radiant-Floor Heating: When It Does — and Doesn't — Make Sense." But radiant floor heating can be a good choice under the right circumstances. Mostly, those situations exist in expansive commercial buildings with tall ceilings, particularly where inordinate air changes occur: fire stations, garages, hangars, where the large area of warmed mass provides quicker recovery with less energy. In residences and small commercial structures, radiant floor heating makes the most sense for buildings with standard levels of insulation and typical double-glazed windows — particularly when they're located in climates with small cooling needs. Retrofits of older houses in cold climates fall into this description. Underfloor radiant hydronic heating retrofit systems that install between the joists below existing wood floors are available from a number of sources. Metal plates or "fins," usually aluminum, that fit tightly around the tubing and make continuous contact with the floor significantly improve heat transfer; but in general, the more layers there are between the radiant heat source and the occupants, and the less thermally transmissive those layers are (think wall-to-wall carpeting), the more diminished the warm-floor effect will be. And for radiant floors to work well — particularly the "staple-up" variety — there also needs to be insulation underneath, which is too frequently overlooked. Often, simply insulating a floor can provide rich rewards without installing the heat delivery system. The other retrofit option for radiant hydronic floors is installing the heat-delivery system above the existing floor (which raises issues about doors that will have to be adjusted, cabinets that end up too short, and trim that needs to be dealt with). This is often accomplished by embedding hydronic tubing in about 1.5" of self-leveling, cementitious material — a process that can add up to a gallon of moisture loading to the building per installed square foot, and could potentially require temporary or permanent structural augmentation. Some of these flowables also have admixtures that may present VOC concerns. While "wet" installations provide extra mass for thermal storage, that extra mass means that they react more slowly to changes in thermostat settings as compared to a lower-mass system — which may or may not translate to reduced energy use, depending a good deal on how the occupants operate the system. There are a growing number of above-the-floor, dry-install, lower-mass (e.g., faster-response) options for radiant hydronic floor retrofits.
One of them is the first, and so far only, radiant-hydronic-floor heat-delivery product to be listed in GreenSpec. It took several months of pondering and deliberation before we made the decision. GSC Modular Radiant Flooring Panels, which are installed on top of an existing floor structure using screws (which avoids VOCs from adhesives, and means that the panels are reusable), incorporate preformed channels on the underside to accommodate radiant tubing. The 1.25-inch-thick panels are made using a recycled-plastic tray into which a lightweight concrete incorporating flyash and recycled-glass aggregate is precast, avoiding moisture-loading the structure. The panels weigh seven to eight pounds per square foot.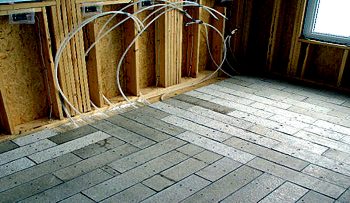 Even though hydronic radiant-floor heating systems using high-efficiency components can use less energy than conventional forced-air furnaces, the sentiment that improving the envelope in order to use a significantly downsized heating system of any type that costs less to install — and more significantly, to operate — is unchanged. But low-temperature hydronic floor (or wall) heat, particularly when
used in conjunction with solar and renewable energy
, is an option that can warrant a review when considering the structure as a system, especially in
the increasingly critical challenge of retrofitting our existing housing stock
.
Published January 21, 2008 Permalink Citation
(2008, January 21). Hydronic Radiant Floor Heating Retrofits. Retrieved from https://www.buildinggreen.com/blog/hydronic-radiant-floor-heating-retrofits