Blog Post
Putting wind turbines on buildings doesn't make sense
It's actually pretty hard to get wind turbines to perform well on buildings and, even if you can, the economics are not very good.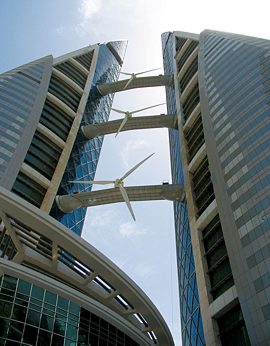 For the EBN feature article this month I spent weeks learning about building-integrated wind. I'm a huge fan of wind energy in general, and the idea of putting wind turbines on top of buildings — or actually integrating them into the architecture of buildings — was really appealing. Why not generate the energy right where it's needed, and by putting turbines on top of buildings wouldn't you be getting them up higher where it's windier? What a cool idea. Unfortunately, as I point out in this month's feature article, "The Folly of Building-Integrated Wind," it's actually pretty hard to get wind turbines to perform well on buildings and, even if you can, the economics are not very good. A huge challenge is noise and vibration. Spinning things tend to generate noise and vibration, and that can be a big problem when people are occupying the building those turbines are mounted on. I went from being open-minded about the practicality of building-integrated wind to believing that it's usually a pretty dumb idea. Another big drawback to building-integrated wind is that even though it's often windy on top of buildings, that wind tends to be quite turbulent. It's twisting around and not nearly as effective for wind turbines as laminar flow. But a lot of rooftop wind turbines are being installed — how are they working? It turns out that it's really difficult to find actual data on how rooftop or integrated wind turbines perform. You would think that information would be fairly available — after all, electric meters aren't that expensive. But wind turbine manufacturers seem reluctant to share that information; so do building owners. Getting hold of actual performance information on real projects was like pulling teeth. I did find some data, however, and it's not a pretty picture. In one year-long study of rooftop wind turbines in the U.K., the average "capacity factor" was found to be less than 1% — while 10% to 30% capacity factors are typical for commercial wind farms. This is not to say that there aren't some really well-designed, functional, attractive wind turbines on the market. There are. Probably the most thoroughly engineered product is the AVX1000 from AeroVironment, a California company made famous by its human- and solar-powered planes, General Motor's EV1 car, and the revolution in unmanned military planes.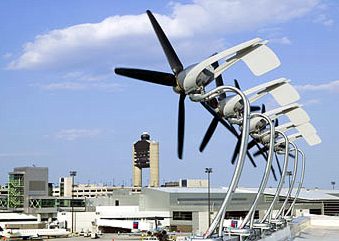 Aerovironment's 1-kilowatt turbine is specifically designed to harvest the accelerated wind at the parapets of commercial buildings. There's a row of 20 of these on a MassPort office building at Logan Airport in Boston. The AVX1000 is elegant and it works — but from my analysis, it's not as cost-effective as building-integrated photovoltaics (PV). Vertical-axis wind turbines look even cooler than the more traditional, horizontal-axis machines, and they are usually quieter. But their efficiency is usually quite a bit lower. We're seeing more and more green buildings that include wind turbines, and this worries me. These turbines aren't cheap; some of the vertical-axis turbines sell for $30,000 to $40,000. If they end up not performing as they are supposed to, it's going to give the green buildings they're installed on — and the green building industry — a black eye. The mainstream media loves to cover green buildings that aren't operating as well as expected. If you have highly visible building-mounted wind turbines that just sit there failing to spin, or if it comes out in USA Today that these turbines have a dreadfully poor economic return, green building could take a hit. What do you think? Use the comments field if you have an opinion on building-integrated wind. I'd love to hear your views. Alex Wilson is the executive editor of Environmental Building News.
Published May 1, 2009 Permalink Citation
(2009, May 1). Putting wind turbines on buildings doesn't make sense. Retrieved from https://www.buildinggreen.com/blog/putting-wind-turbines-buildings-doesnt-make-sense