Blog Post
BuildingEnergy08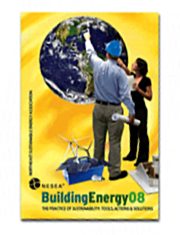 Always a big supporter of the
BuildingEnergy
conference, BuildingGreen will have an even bigger presence than usual this year — in addition to our booth on the trade show floor, we have people chairing sessions, leading a full-day building science workshop, and even giving the opening plenary. The BuildingEnergy conference and trade show for renewable energy and green building professionals, presented by the
Northeast Sustainable Energy Association
, runs from March 11 - 13 in Boston. Our own Alex Wilson will give the
opening plenary
:
"Alex Wilson will review some of the tremendous challenges facing our environment and our way of life, including climate change, water shortages, and the end of cheap oil, then focus on integrated solutions to these problems. The answers certainly won't be easy, but they are waiting for us, should society choose to act."
He will also chair a session called "Passive Survivability: The Other Reason to Go Green," on Thursday morning (8:30 - 10:00).
Christopher R. Schaffner
will be speaking in this session.
"The concept of 'passive survivability' is relatively new to the building community, but had its debut in Environmental Building News two years ago. It involves the next generation of green buildings. They are distinguished from other green buildings in that they are not only environmentally excellent, but also more secure structures able to keep their occupants safe and reasonably comfortable under all conditions."
Alex has written about energy-efficient and environmentally responsible design and construction for more than 25 years.

Prior to starting BuildingGreen, he was executive director of the Northeast Sustainable Energy Association for five years; before that he taught workshops on the construction of solar greenhouses in New Mexico in the late '70s. Alex is author of
Your Green Home
, and coauthor of the
Consumer Guide to Home Energy Savings
and the Rocky Mountain Institute's comprehensive textbook
Green Development: Integrating Ecology and Real Estate
. He has also written hundreds of articles for other publications, including
Fine Homebuilding
,
Architectural Record
,
Landscape Architecture
, the
Journal of Light Construction
, and
Popular Science
. Along with writing about design and construction, Alex has written
four guidebooks on quiet-water paddling
published by the
Appalachian Mountain Club
— covering all of New England and New York State. Alex served on the board of directors of the
U.S. Green Building Council
for five years, and he is currently a trustee of
The Nature Conservancy - Vermont Chapter
. Nadav Malin, vice-president of BuildingGreen, will chair a session on Thursday morning (10:30 - noon) called "
Debate in the Green Communities: LEED® or Follow?
" Session speakers include
Chris Benedict
,
Bruce Coldham
, and
Scot Horst
.
"Considered by many to be the premier sustainability guideline, the US Green Building Council's (USGBC) Leadership in Energy and Environmental Design (LEED®) standard has been adopted by many as the standard across the country. Critics claim that the system favors 'point grabbing' over good building science, while supporters say it has become a tool of market transformation for the green community. Sit in on the discussion."
Nadav serves as editor of
Environmental Building News
, and coeditor of the
GreenSpec
product directory.

He is chair of the Materials and Resources
Technical Advisory Group
for the
LEED® Rating System
of the
U.S. Green Building Council
' (USGBC), a
LEED Faculty Member
, and a
LEED Accredited Professional
. He was a principal author of the Applications Reports for the
Environmental Resource Guide
that compares the environmental value of different building materials in various applications, and he coauthored the chapter on building materials for
Time Saver Standards
. He has written numerous articles for publications including
Architectural Record
and
The Construction Specifier
. Nadav consults and lectures widely on sustainable design, with a particular focus on green materials. In addition to running
LEED training workshops
, he has taught seminars for various USGBC chapters,
CSI
chapters, state
AIA
chapters, and private architecture firms. He also served on the U.S. team for
Green Building Challenge
, manages the
U.S. Department of Energy's High Performance Buildings Database
project, and leads the content development team for Web and software resources at BuildingGreen.com. Peter Yost, BuildingGreen's awesomely knowledgeable Residential Program Manager, will be presenting a full-day
pre-conference workshop
on Tuesday (9:00 AM - 5:00 PM), called "
Building Science Fundamentals
." This one's going to be
hot
.
"Building science fundamentals form the foundation needed to drive and market your green building business. Learn how building science, quality and durability can work together for true high performance green building. The one-day seminar will cover how to solve problems in existing buildings, and how to avoid making these mistakes in new construction."
Peter Yost is the Residential Program Manager for BuildingGreen. He has been building, researching, teaching, writing, and consulting on high performance homes for more than twenty years.

His expertise stretches from construction waste management and advanced framing to energy efficiency and building durability. Peter has made significant contributions to the work of many leading homebuilding organizations and initiatives —
NAHB Research Center
,
Building Science Corporation
,
3-D Building Solutions
,
EEBA
,
Masco's Environments for Living®
program,
USGBC's LEED for Homes
program, and the
US Department of Energy's Building America
program. Peter is currently an instructor for the
Boston Architectural College's Sustainable Design Certificate
program and for the
University of Massachusetts Department of Building Materials and Wood Technology
program in Amherst. He is a past co-chair and current Materials and Resources Technical Advisory Steering Committee member of the USGBC's LEED for Homes program. BuildingGreen, in addition to being a Track Sponsor (the "Collaboration in Action" series), will be at Booth 654 on the
trade show floor
— come see us!
Published February 11, 2008 Permalink Citation
(2008, February 11). BuildingEnergy08. Retrieved from https://www.buildinggreen.com/news-article/buildingenergy08