Blog Post
Google Earth features new High Performance Buildings layer
Update: it has come to our attention that the U.S. Department of Energy is no longer supporting this Google Earth layer. We've created a Google Documents link where you can download the KMZ file for use in Google Earth.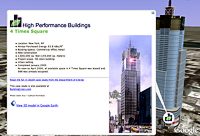 I want to show off something that we have been working on that I'm really excited about. Working with the Department of Energy and Google, we created a High Performance Buildings layer in
Google Earth
. The layer gives you an interactive map with markers for the buildings in
DOE's High Performance Buildings Database
, with links to full case studies. Even cooler, you can download and view 3D models of the buildings (that were created in
SketchUp
). If you have Google Earth, you can download the layer here:
Great Green Buildings Google Earth Layer
If you don't have Google Earth, you can
download it here
. You can find the 3D models in the
Department of Energy collection
of Google's 3D Warehouse. This layer is only the first step of our Google Earth/ SketchUp project. There will be more coming, so let us know if you have any suggestions.
Published November 19, 2007 Permalink Citation
(2007, November 19). Google Earth features new High Performance Buildings layer. Retrieved from https://www.buildinggreen.com/news-article/google-earth-features-new-high-performance-buildings-layer