Blog Post
Avoid Unvented Gas Heaters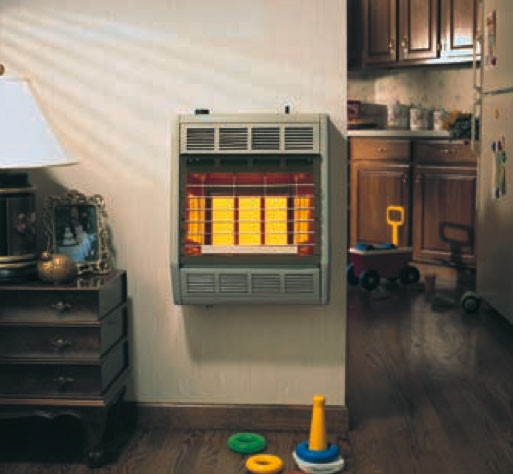 Strong influence by the unvented appliance industry has made it more difficult for states and provinces to prohibit these products. Today, only California has a ban on unvented appliances.
Let me get right to the point: unvented gas (and kerosene) space heaters and fireplaces are a bad idea. Don't install one.
Euphemistically called "vent-free appliances" by the gas industry (see ventfree.org), unvented heaters and fireplaces that are installed indoors release combustion products directly into the living space. These heaters are very popular, with buyers attracted to the low purchase price and inexpensive installation. According to data in Appliance Magazine, U.S. sales of vent-free room heaters have averaged 290,000 units per year from 2004 through 2008.
Installation is cheap. You just buy the unit, hook it up to your gas supply, and turn it on. There's no annoying vent pipe to install through the wall or up the chimney. Simple, right?
To dig a little deeper, let's take a look at combustion. When we burn a hydrocarbon fuel, such as natural gas or propane, the fuel reacts with oxygen producing heat and two primary combustion products: water vapor and carbon dioxide.
There are two problems when we allow those combustion products be exhausted into our living room.
The first is that, along with water vapor and carbon dioxide, there are some combustion biproducts that aren't good for us. With an unvented gas space heater, the combustion process is very complete--99.9% efficiency or higher, according to manufacturers--but that tenth or hundredth of a percent can be pretty nasty, containing constituents as carbon monoxide, nitrogen dioxide, soot, and unburned hydrocarbons.
SUPPORT INDEPENDENT SUSTAINABILITY REPORTING
BuildingGreen relies on our premium members, not on advertisers. Help make our work possible.
See membership options »
Carbon monoxide is toxic (even deadly) at high levels and causes long-term health problems at low levels. Nitrogen dioxide, at even minute levels, may affect our immune systems and increase our susceptibility to respiratory infections. An oxygen depletion sensor (ODS) on unvented gas heaters and fireplaces shuts off the gas flow if the oxygen level drops below 18% (an indicator that not enough fresh air is getting into the house), but the ODS does not detect carbon monoxide or other hazardous emissions.
The second problem with venting combustion products indoors is that even the "clean" combustion products aren't so good to introduce into our homes in large quantities. High levels of carbon dioxide make us feel drowsy and may cause eye irritation. Large quantities of water vapor released into our houses will raise the humidity level and can result in condensation on windows, concrete slabs, or areas of wall with "thermal bridges" through them. This moisture can result in mold growth, induce allergies and asthma among homeowners, and cause rot. The tighter the house, the greater the risk. A 30,000 Btu/hour unvented gas heater will produce about a third of a gallon of water per hour--about seven gallons per day if operated around the clock.
One should get an inkling that unvented gas heaters and fireplaces aren't so good by reading the warning labels that come with them--suggesting that a window be opened during operation, that they not be operated for more than four hours at a time, and that they not be used as a primary heating system. Are those recommendations really going to be followed?
That unvented gas and kerosene appliances are a bad idea is no secret. A lot of scientists and health professionals have long argued that they don't make sense. Our publication, Environmental Building News, and other publications such as Energy Design Update and Home Energy have argued for years that such appliances should, in fact, be banned by building codes.
But, remarkably, the regulations have gone the other way. Strong influence by industry in the code-setting process and the adoption of increasingly universal building codes have made it more and more difficult for states and provinces to prohibit these products. The International Mechanical Code accepts unvented heating products, and that code has been almost universally adopted throughout North America. In 1996, six states prohibited these unvented heaters (California, Alaska, Montana, Minnesota, New York, and Massachusetts), as did all Canadian provinces except Manitoba and British Columbia. Today, they are prohibited in only one state: California.
Even though we are largely blocked from banning unvented heating appliances through our regulations, we can at least exercise our good sense by not buying them. It's more expensive, but we should only install combustion heating equipment that vents to the exterior. Period. End of story.
I invite you to share your comments on this blog. You can also follow my musings on Twitter.
Published September 22, 2009 Permalink Citation
(2009, September 22). Avoid Unvented Gas Heaters. Retrieved from https://www.buildinggreen.com/blog/avoid-unvented-gas-heaters