Blog Post
Boon Edam's Power-Generating Revolving Door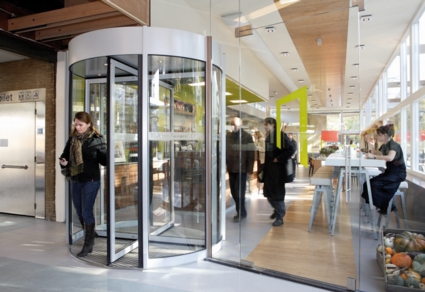 All right, I'll admit it. The fact that the Netherlands-based revolving-door manufacturer Boon Edam has a model that uses human power to generate electricity is mostly a gimmick. By entering or leaving through the NRG+ Tourniket, a generator built into the revolving door mechanism powers three LED spotlights in the ceiling of the door.
But if it's a gimmick, it's a great one--if it gets more people to use revolving doors instead of standard hinged doors in commercial buildings.
We don't often think about revolving doors, but they can save huge amounts of energy and money in commercial buildings. They save energy because they dramatically reduce the inflow of unconditioned outside air when people enter a building. Just how much energy revolving doors save is a little hard to figure out. There appears to be very little information available on this, and some of the leading energy engineers I contacted about this were not aware of performance data, though they agreed that revolving doors can save a lot of energy. The energy savings will be greatest on tall buildings where the stack effect results in significant negative pressure on the ground floor.
A study at the Massachusetts Institute of Technology (MIT) estimated that in campus building E25 (a seven-story academic building that houses the College of Health Sciences and Technology) the revolving doors allow just one-eighth the air leakage that results from the building's standard hinged doors.
The website of the International Revolving Door Company in Evansville, Indiana, claims that someone entering through a revolving door admits only 26 cubic feet of air, on average, while a swing-door entrance admits an average of 1,800 cubic feet (about 70 times as much). In some cases, the site claims, the ratio is closer to 100:1.
For more information:
SUPPORT INDEPENDENT SUSTAINABILITY REPORTING
BuildingGreen relies on our premium members, not on advertisers. Help make our work possible.
See membership options »
Boon Edam Door Systems
Lillington, North Carolina
800-334-5552, 910-814-3800
www.boonedam.usI invite you to share comments on this blog.
Alex Wilson is the executive editor of Environmental Building News and founder of BuildingGreen, LLC. To keep up with his latest articles and musings, you can sign up for his Twitter feeds.
Photo of NRG+ Tourniket energy-generating revolving door in the Driebergen-Zeist railway station in the Netherlands. Source: Boon Edam.
See more on this product in the GreenSpec Guide
Published April 7, 2010 Permalink Citation
(2010, April 7). Boon Edam's Power-Generating Revolving Door. Retrieved from https://www.buildinggreen.com/blog/boon-edams-power-generating-revolving-door