Blog Post
Mixed Use: Too Many Eggs in One Basket?
Fire guts half a block of a small New England town, revealing the built-in vulnerabilities of dense development.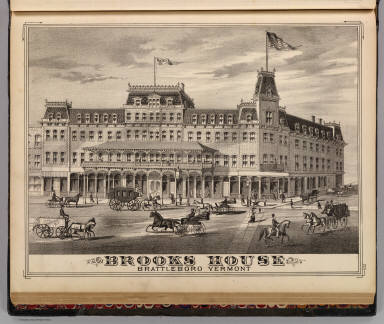 Then: This historic print shows Brattleboro's Brooks House in all its glory. The building was originally an upscale hotel serving tourists who came from Boston and New York for the fresh air.
Brattleboro, Vermont is still in shock over the sudden and complete loss of one of its Main Street buildings early yesterday morning, apparently because of an electrical fire. Brooks House, a former hotel with a distinctive mansard roof, was built in 1871 on the ashes of an even older building also destroyed by fire. It was listed on the National Historic Register, but its historic status means nothing compared with its significance to our town. This is like a cigarette burn on the bodice of a silk gown.
The aesthetics are shocking, but the economics are a profound jolt. This was the pinnacle of sustainable building--mixed-use urban real estate and an adaptive reuse project housing a number of thriving retail establishments and 50 families. These business owners and residents have a long row to hoe.
The whole town has a long row to hoe. Main Street is literally shut down while structural damage to the building is assessed. The fire has completely disrupted the lives of hundreds of people who have lost their homes and jobs. If you are an advocate of multi-family housing, mixed use, and smart growth, this level of utter devastation gives you pause. Denser development means more concentrated damage. One bad wire, and poof.
When I learned that the newest Main Street business--the socially responsible bagel place--was closed, I groaned. When you walked in, you could read a long list of sustainable building strategies (including low-VOC products, FSC-certified wood, and many items crafted by local artists and artisans) the company used when renovating the interior. I don't know how damaged that particular business is (I haven't had the courage to go gawk yet), but I wonder whether all the owner's long-term thinking has gone to waste in the blink of an eye.
In our April feature on green structural engineering, we addressed the issue of building longevity and disaster resilience, and discussed whether increased durability is inherently sustainable. The up-front investment (and the higher embodied carbon sometimes associated with more durable buildings) only pays returns if these strategies actually have time to work. A fire or another disaster can take it all away like that.
SUPPORT INDEPENDENT SUSTAINABILITY REPORTING
BuildingGreen relies on our premium members, not on advertisers. Help make our work possible.
See membership options »
What's more, that story did not address something that we leave out of pretty much every article here at BuildingGreen. Hopefully it is understood, but it doesn't hurt to say it out loud every once in a while. Great buildings are more to people than four walls and a roof. They are greater than the sum of their LEED credits and go deeper than their fly ash concrete foundations. Great buildings are the fabric of our communities and our economy. We also keep them in our hearts.
Making the right choices about where and how to build is a big responsibility, and every choice, it seems, involves tradeoffs. Sustainable design, by definition, plans for the long term. Most of the time, it works great--but some outcomes are out of our hands.
Published April 19, 2011 Permalink Citation
(2011, April 19). Mixed Use: Too Many Eggs in One Basket?. Retrieved from https://www.buildinggreen.com/blog/mixed-use-too-many-eggs-one-basket