Blog Post
TimberSIL Now Made with Waste-Ag Silicate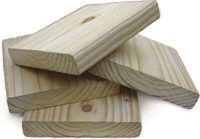 We first wrote about TimberSIL from
TimberSIL Products
in a
2004 article in EBN
, touting the company's treated wood as a revolution in the treated wood industry. From an environmental standpoint, a recent enhancement makes the product even better. I've just participated in the three-day
Build Well conference
in Sausalito--a first-ever think-tank conference organized by Bruce King, Ann Edminster, Jan Stensland, and Tom Hahn through the
Ecological Building Network
. It was a wonderful conference, one of the most exciting I've attended in years. Most of the hundred or so participants were staying at the gorgeous retreat center
Cavallo Point Lodge
where the event was held, just across the Golden Gate Bridge from San Francisco. The informal atmosphere afforded plenty of opportunity to get to know each other and carry on in-depth conversations on the topic of the moment.
Among the participants (and presenters) was Karen Slimak of Timber Treatment Technologies. In a discussion with Slimak over dinner the first evening, I learned--almost by coincidence--that the sodium silicate the company uses in its treatment process is derived 100% from burning rice hulls. Rice hulls have a high silica content--up to about 60%--and this silica is extracted in a gasification process in which the hulls are heated to produce three products: hydrogen (which is burned to generate electricity), carbon (used in making activated carbon for filters), and amorphous sodium silicate.
Timber Treatment Technologies switched entirely to this waste agricultural source of sodium silicate about a year ago. The material is sourced from a company that processes rice hulls from Louisiana and Mississippi. According to Slimak, millions of tons of rice hulls are available--an almost unlimited supply to support her company as it expands--though the company is investigating other clean sources of the compound.
Deriving the sodium silicate from a renewable supply reduces the environmental footprint of TimberSIL. Typically, the compound is derived from processing sand in an energy-intensive and polluting process.
This new feature of TimberSIL (it should now be able to help earn the rapidly renewable materials credit in LEED) adds to an impressive list of benefits of the product. Unlike chemically treated wood (using creosote, ACA, CCA, copper azole, and others), sodium silicate is totally nontoxic and VOC-free. It has been used in laundry detergents and other consumer products for well over 100 years. Rather than making wood toxic to decay organisms, the process surrounds wood cells with an amorphous glass--rendering the wood unrecognizable as a food source. TimberSIL is also noncorrosive and, in fact, sodium silicate is used as a corrosion inhibitor in sewage treatment plants.
TimberSIL is currently produced at a plant in South Carolina and distributed nationally by American International Forest Products, of Portland, Oregon. There are plans for additional plants, both in North America and abroad. Results of new fire tests (ASTM E-84) and accelerated aging (ASTM D-2898) have been very positive, with TimberSIL easily meeting the standard for Class A fire resistance and meeting California's stringent ignition-resistance standard for decking. More details are available in our January 2009 article in EBN.
For more information:
SUPPORT INDEPENDENT SUSTAINABILITY REPORTING
BuildingGreen relies on our premium members, not on advertisers. Help make our work possible.
See membership options »
Timber Treatment Technologies
Springfield, Virginia
703-941-5171
www.timbersilwood.comwww.timbersilproducts.comI invite you to share your comments on this blog. Have you used TimberSIL?  
To keep up with my latest articles and musings, you can sign up for my Twitter feeds.
See more on this product in the GreenSpec Guide
Published February 4, 2010 Permalink Citation
(2010, February 4). TimberSIL Now Made with Waste-Ag Silicate. Retrieved from https://www.buildinggreen.com/blog/timbersil-now-made-waste-ag-silicate