Blog Post
Top-10 Products for 2012: Our Picks for a Resilient Future
Our Top-10 Products for 2012 look ahead, offering forward-thinking solutions you can put in place now.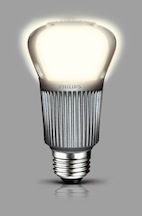 Greenbuild is one of the highlights of the year as we scout out new, innovative products for GreenSpec and Environmental Building News, and every year we present the Top-10 Building Products as selected by our editorial team. This year we are awarding the top 10 products of 2012. That is not a typo.
Though we discovered these products over the previous year, they are produced by forward-thinking manufacturers that are addressing fundamental building needs for 2012 and beyond. I met with Brent Ehrlich, our products editor to get the scoop on what's so exciting to him about each of these products. You can read more of the technical details of each one over in the news section of EBN.
InterfaceFLOR carpet tiles with PFC-free carpet fibers
A great example of looking toward the future is InterfaceFLOR. While Greenbuild mourns the passing of Ray Anderson, Interface founder and green building visionary, he leaves a legacy of sustainability behind. His company is now offering tile carpeting that does not contain any perflourinated compounds (PFCs).
PFCs are complex, man-made chemicals that do not break down in the environment and are found on virtually all other carpet products: they are a very effective coating that keeps spills from penetrating the fiber. The problem is, the carpet has to be washed, and these chemicals eventually wash away too and enter our soil and groundwater--where they remain virtually forever. But InterfaceFLOR tiles use fibers made to resist spills without PFCs, preventing unknown long-term health and environmental effects caused by most carpets.
Lifeline PVC-free resilient flooring
Many people don't realize that resilient vinyl flooring doesn't have a built-in wear layer. Its durability relies on a constant cycle of waxing, stripping, and re-waxing: this process, which occurs quite frequently in hospitals and schools, pollutes the indoor air with a variety of toxic chemicals. Vinyl flooring also contains PVC, which has long-term impacts due to persistent, carcinogenic chemicals used in its manufacture that also can leach out after disposal.
Lifeline does have a tough, built-in wear layer and does not require this constant waxing and stripping. It also contains no PVC, an added bonus. So it helps protect kids and hospital patients from one of the most prevalent sources of potent indoor VOCs while also avoiding the introduction of persistent organic pollutants like dioxins to the environment.
SUPPORT INDEPENDENT SUSTAINABILITY REPORTING
BuildingGreen relies on our premium members, not on advertisers. Help make our work possible.
See membership options »
CI-Girt Rainscreen System
If there's one thing we need to be taking really seriously, it's the resilience of our buildings in the face of climate change. Rainscreens are great at keeping moisture away from commercial buildings, but a typical rainscreen system comes with an energy penalty.
That's because during installation the insulation must be hand-cut, an imperfect process that is quite expensive and also ends up allowing significant thermal bridging. The CI-Girt system is designed to allow continuous insulation, though, and they also contain an interchangeable cladding system that will allow a building to adapt to new owners and uses, without sacrificing performance.
EonCoat waterborne ceramic coating
All these years we've been using industrial and commercial coatings high in health-threatening and smog-producing VOCs when the ingredients we needed could have been found at any 1950s drug store? EonCoat sounds almost too good to be true, and I have to admit our editors were pretty skeptical at first.
This two-part, waterborne ceramic coating is made out of phosphoric acid and milk of magnesia. It's a fascinating and elegant solution to a problem that has plagued us for decades. And the performance really seems to be there: industrial facilities are starting to use it in highly corrosive environments and finding it amazingly durable.
Aqua2use Graywater System
While many regions are dealing with way more water than they can handle as "global weirding" really starts to hit home, in other places clean water is becoming an ever-scarcer resource. A really effective system that allows us to reuse water is going to be a crucial part of facing climate change.
The Aqua2use system is kind of like a rain barrel, but instead of collecting rain it collects the water that goes down the drain from your sinks and washing machine. The water goes through several (cleanable) filters and can then be safely used for outdoor irrigation. In places where drought and wildfires are a problem, people are actually sometimes ordered to water lawns to help keep the fires from spreading. A system like this makes it possible to water lawns or keep backyard food crops going during a drought without requiring precious potable water.
Cypress Envirosystems' analog-to-digital wireless thermostat
This is one of the most exciting and innovative retrofit products we've seen in a long time. It pretty seamlessly replaces an analog pneumatic thermostat with wireless digital controls, allowing much more granular energy automation, management, and data tracking than you will ever get out of a manual system.
During a recession when hardly any new buildings are going up, people are instead looking for ways to upgrade older buildings to save money. This wireless retrofit can be set up in about 30 minutes without tearing out walls or replacing air-handling infrastructure. What better way to protect our future than by bringing our existing building stock into the 21st century?
Ritter XL solar thermal system
This solar thermal system is also offering a new twist on existing technologies, but in this case it's combining several of them to achieve unprecedented levels of solar thermal efficiency that can be used in really high-demand applications like district heating and multifamily housing.
By combining evacuated tubes, compound parabolic reflectors, and water--which is a more efficient heat-transfer fluid than the usual glycol--these sophisticated modules can produce very hot water even in very cold climates. The advanced controls keep the heat-transfer fluid from freezing. As we look beyond buildings to larger-scale energy solutions, projects like renewable district heating are going to be key.
Mitsubishi ductless heat pumps and variable-refrigerant-flow systems
Ground-source heat pumps (which use water or glycol) provide energy-efficient heating and cooling--but they require deep wells or a nearby water source, and they are expensive. Ideally, air-to-air heat pumps (also known as "split" systems) can lower the initial cost while providing similar performance, but these systems often don't operate well at very low temperatures.
The Mitsubishi ductless heat pumps are a leap forward in air-to-air efficiency, almost rivaling ground-source at a fraction of the cost. They can be used in multifamily and hotel applications, where custom setpoints and even submetering may be desirable, and they work well even at very low temperatures--a limitation on air-to-air heat pumps in the past.
AllSun Trackers
The AllSun Tracker is an innovative, climate-adaptive product with some really sophisticated controls that maximize efficiency while also protecting the equipment from severe weather.
The trackers use GPS to track the sun's path across the sky from dawn to dark. In high winds, the module folds itself flat on the ground to help prevent damage from a hurricane or tornado. And what better self-sufficiency feature for northern climates could you ask for than a daily snow-dump feature? A product like this one will help those of us with less plentiful solar resources to harvest every photon we can get.
Philips EnduraLEDs
I cannot think of a more outdated product than the incandescent light bulb. Nor of a better way to look forward than a high-efficiency (and mercury-free) bulb that can screw into an incandescent socket.
Philips has been a real pioneer in trimming down the wattage required to produce and scale 60-watt equivalent bulbs. The product we're recognizing is a 60-watt replacement that uses 12 watts--but next year another version of this bulb is the L-Prize-winning 10-watt version.
I actually went to see both of these bulbs in the Greenbuild exhibit hall, and I was surprised at how warm the light is. The bulbs have unusual-looking heat sinks that some people might find a little odd (I find them attractive, but it's not what people are used to with an incandescent). Once you turn them on, though, they are so bright you would never even notice the shape.
What about 2013?
As I write this, Brent is roaming the exhibit hall looking for candidates for next year's Top-10 Products. I can't wait to hear about what he's seeing today!
In the meantime, I'm posting Alex's Greenbuild presentation below for those who couldn't attend today. Please let us know what you think about our Top-10 picks in comments. Which are you most excited about?
Published October 6, 2011 Permalink Citation
(2011, October 6). Top-10 Products for 2012: Our Picks for a Resilient Future. Retrieved from https://www.buildinggreen.com/blog/top-10-products-2012-our-picks-resilient-future