Blog Post
Armstrong FSC-Certified Wood Flooring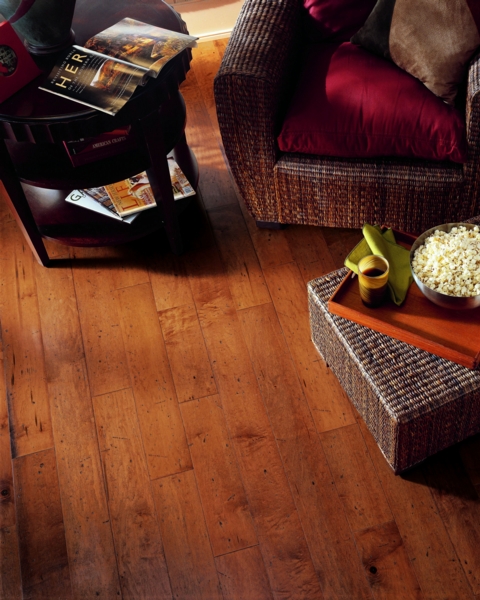 We've promoted the
Forest Stewardship Council's wood certification program
in the pages of Environmental Building News since FSC was formed back
in 1994
. We've always looked for companies offering FSC-certified wood products to highlight in EBN and GreenSpec. Over the years, most of those products have been from small companies; larger more industrial timber industry companies have shied away from FSC in favor of the less-rigorous
Sustainable Forestry Initiative (SFI) certification
.
While we continue to feel great about small companies embracing FSC, we also find it exciting when larger players enter the FSC world--because these companies will help FSC become more accepted by the mainstream timber and building-products industries.
Thus, we were really pleased recently to learn that Armstrong World Industries, one of the world's largest flooring manufacturers, had entered the FSC world with FSC-certified engineered hardwood flooring products.
According to Daniel Call, Armstrong's vice president for wood product management, Armstrong's Somerset, Kentucky and Center, Texas facilities have carried FSC certification for about a year, while FSC certification of its Titusville, Pennsylvania plant has just been announced.
The company can make virtually any of its most popular engineered hardwood products with FSC wood, according to Call, including its Beckford Plank and Bruce American lines, for both commercial and residential applications.. Woods available include oak, maple, hickory, and walnut. Flooring widths range from 3" to 5-1/4" and lengths up to 47". As engineered product, the flooring does contain binders, but it meets CARB Phase II standards for low formaldehyde offgassing.
According to Call, "cost will be determined on a case-by-case basis, largely depending on quantity, but in general, users can expect 15-20% higher pricing than non-FSC-certified wood."
When asked if Armstrong might shift its entire hardwood flooring business to FSC-certified product, Call told BuildingGreen that there isn't enough FSC lumber to do this. "Given that all of the lumber processed in our plants comes from sustainably harvested U.S. forests," said Call, "we do not believe that FSC-certification of our supply meets a pressing environmental need the same way it does in South America or Southeast Asia."
SUPPORT INDEPENDENT SUSTAINABILITY REPORTING
BuildingGreen relies on our premium members, not on advertisers. Help make our work possible.
See membership options »
For more information:
Armstrong World Industries
Lancaster, PA
717-397-0611
www.armstrong.comI invite you to share your comments on this blog. If you'd like to receive an e-mail notice when my weekly product blog is posted, subscribe by entering your e-mail address in the upper right. You can also follow my musings on Twitter.
See more on this product in the GreenSpec Guide
Published January 20, 2010 Permalink Citation
(2010, January 20). Armstrong FSC-Certified Wood Flooring. Retrieved from https://www.buildinggreen.com/news-article/armstrong-fsc-certified-wood-flooring