Blog Post
Zehnder's High-Efficiency HRV Systems
Our next feature article for
Environmental Building News
is on the Passive House standard for ultra-low-energy buildings--a standard that originated about 20 years ago in Germany. Excitement about Passive House in North America is resulting in some really cool products being introduced from Europe. One of those is the Zehnder line of heat-recovery ventilators (HRVs) and associated components.
I had a chance to spend some time with Barry Stephens, the national sales and marketing manager for Zehnder America at last week's Building Energy Conference, sponsored by the Northeast Sustainable Energy Association (NESEA). Zehnder is a Swiss company that specializes in hydronic heat distribution, heated towel racks, ground-source heat recovery, and advanced heat-recovery ventilation systems. Runtal, a more familiar brand in North America, is a Zehnder company. Zehnder's ComfoAir systems are the highest-efficiency heat-recovery ventilators available in North America. They use counter-flow air-to-air heat exchangers, while most HRVs in North America rely on parallel-flow heat exchangers. With counter-flow, the ComfoAir can achieve heat-recovery efficiency of over 90%, according to Stephens. This is the only HRV available in North America that is Passive House-certified.
Both heat-recovery (HRV) and energy-recovery (ERV) versions are available. HRVs bring in fresh air, exchanging heat with the outgoing interior air; any moisture in either air stream is retained. ERVs exchange both heat and moisture, so that moisture levels in the house neither increase nor decrease appreciably as a result of the ventilation; this is important for applications where you want to either keep unwanted moisture out of a building or keep it in.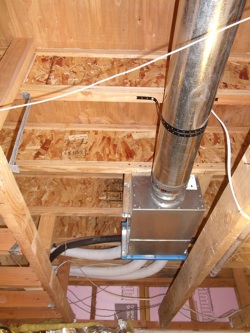 Just as interesting as the HRVs and ERVs from Zehnder are the modular, small-diameter ducting systems. The ComfoAir systems rely on "home-run" ducting. Analogous to home-run plumbing systems, home-run ducting relies on a central manifold and flexible 3"-diameter HDPE flexible ducting that extend from the central manifold to each location in the house where air is being delivered or exhausted. The ducting is small enough to install in stud cavities, and a small bending radius makes installation easy. In Europe these ducts are often installed in concrete floor slabs, but that is not typical here.
The ducting has a smooth interior to minimize friction and a corrugated exterior for strength. Lengths of ducting snap into the manifold using super-simple connections, taking just seconds and sealing extremely well without duct mastic. It's what you would expect of Swiss engineering--clean, precise, and elegant. Simple balancing components are provided in the outlet registers.
The company offers various other components:
Silencers that acoustically isolate the ComfoAir HRV or ERV unit from the ducting to limit noise;
Sophisticated and elegantly simple control modules;
Bathroom switches that communicate wirelessly to the control modules using radio-frequency signals;
A unique antifreeze-filled ground-loop ComfoFond-L to temper inlet air and prevent frost (in Europe the company offers earth tubes to pre-condition ventilation air, but Stephens doesn't recommend those in North America, due to moisture concerns);
Small, in-line "post-heaters" (made by Electro Industries in Monticello, MN; www.electroMN.com) to condition the ventilation air--often the only heat that's needed in ultra-energy-efficient Passive Houses; and
Through-the-wall baffles to passively distribute ventilation air in a home.
The ComfoAir 350 is the most common model, providing 350 m
3
/hour (225 cfm). A smaller 200 model delivers 125 cfm, and a larger 550 delivers 350 cfm. All use advanced ECM motors to maximize energy efficiency.
As one might expect, the ComfoAir ventilation system, with all its bells and whistles, isn't cheap. A typical residential system for a fairly compact house will run $6,000 to $6,500 installed, according to Stephens, with installation accounting for about half the cost--plus another $2,500 to $3,000 if you want the ComfoFond-L ground loop system. An in-line electric duct heater providing about the output of a hair dryer will add another $500 to $600.
SUPPORT INDEPENDENT SUSTAINABILITY REPORTING
BuildingGreen relies on our premium members, not on advertisers. Help make our work possible.
See membership options »
Zehnder's ComfoAir was introduced to North America in November, 2009, and the website is just going up this week (check back next week if the site doesn't yet include the Zehnder ventilation products). To date, about a dozen systems have been installed, mostly in Passive House projects.
For more information:
Barry Stephens
Zehnder America, Inc.
Greenland, New Hampsire
888-778-6701, 603-422-6700
www.zehnderamerica.comI invite you to share comments on this blog. What other products that can help achieve ultra-low energy buildings should I be covering?
To keep up with my latest articles and musings, you can sign up for my Twitter feeds.
See more on this product in the GreenSpec Guide
Published March 18, 2010 Permalink Citation
(2010, March 18). Zehnder's High-Efficiency HRV Systems. Retrieved from https://www.buildinggreen.com/blog/zehnders-high-efficiency-hrv-systems