Blog Post
10 Green Building Products They Still Make in the U.S.
It's not necessarily greener to source products made in the USA. But it sure does create jobs.
Let's get one thing clear: the issue of energy spent importing stuff from China is a red herring. The distance from ports in California to China is about twice the width of the continental U.S., but ocean freighters are about 7.5 times more energy-efficient than trucks, so the energy expenditure of any given product has a lot more to do with the transportation mode than with the distance it travels.
Nonetheless, reducing miles traveled by our products is probably good. Rail is about 9.5 times more efficient than trucking, so there are efficient ways to get goods across the continental U.S. Why not use them?
We also have strong environmental and workers' rights regulations in this country, and by keeping things local we are more likely to care about impacts.
It's the economy, not the environment
But these days, the biggest motivator is probably jobs.
According to ABC News, if every builder in the country sourced just 5% more American-made products, it would create 220,000 new American jobs. In a story about a Montana house being built entirely of U.S.-made materials, ABC's David Muir writes, "Even though certain goods are more expensive, in total, the cost of the house is nearly identical, given that other U.S.-made products are cheaper. The all-American home, which is not yet finished, is running only 1%–2% more than a foreign-sourced house."
The manufacturing of many building products has not been outsourced to China in the way consumer goods have, but there is a perception--and in some cases a reality--that many products are not produced domestically.
SUPPORT INDEPENDENT SUSTAINABILITY REPORTING
BuildingGreen relies on our premium members, not on advertisers. Help make our work possible.
See membership options »
That's why we compiled this list of 10 green building products from regions across the U.S.: "Made in U.S.A." products that we list in GreenSpec.
Encore industrial-grade particleboard, with 90% recycled content and FSC certification an option, is manufactured at three of SierraPine's five US locations--Springfield, OR; Martell, CA; and Adel, GA. Like many of SierraPine's medium density fiberboard products, Encore contains no added urea formaldehyde (NAUF). Instead of conventional urea-formaldehyde (UF) binders that can emit high levels of formaldehyde, Encore uses phenol-formaldehyde (PF), or phenolic, binder for emissions low enough to comply with strict CARB Phase II regulations (0.09 parts per million formaldehyde). Read more in GreenSpec.
SolarWorld, one of the world's largest manufacturers of PV modules, operates factories in both the U.S. and Germany, producing modules and kits for residential and commercial installations. Solarworld was founded in southern California in 1975; today its sales and marketing offices remain there while production at its U.S. headquarters in Hillsboro, OR, supplies the company's customers in the U.S., Canada, and Latin America. Read more in GreenSpec.
Enercept SIPs, made in South Dakota, consist of a core of expanded polystyrene--with up to 80% pre-consumer recycled content--laminated between two sheets of oriented strand board (OSB), which is available FSC-certified upon request. Read more in GreenSpec.
Founded by rockabilly singer Boyd Bennett in 1965, Hardcast of Wylie, TX, manufactures a line of low-VOC, water-based duct sealants including Duct-Seal 321. Non-toxic and solvent-free, Duct-Seal is an industrial-grade sealant for metal or fabric duct, flex duct, and glass-fiber duct board. Read more in GreenSpec.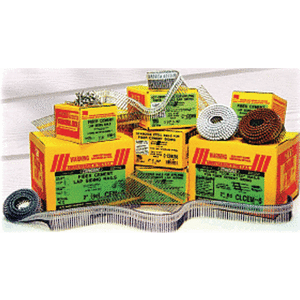 Nails are small, but their impact adds up. Just one house will require about 20 pounds of nails to build, and retrofit projects need them too. Choosing domestic and recycled makes a difference.
Maze is one of very few companies manufacturing nails in the U.S., and the only one advertising recycled content in its products. Made in Illinois from domestic recycled steel (65% post-consumer, 20% pre-consumer), Maze nails are available in all standard and most specialty styles and sizes. Highlighted in ABC's "Made in America" construction segment, Maze's pneumatic nails are mentioned as one of the complex reasons the "all-American home" project is barely over budget: while Chinese nails are a bit cheaper, says David Muir, "the American nails jam the nail gun far less often." Read more in GreenSpec.
Typar offers several vapor-permeable polypropylene weather-resistive barriers for residential and commercial applications, with various ratings for permeability and UV resistance. As discussed in our article Choosing the Best Housewrap (link to "Choosing the Best Housewrap: A New Standard for Weather Barriers"), Typar meets the new ASTM standards for weather-resistive barriers. (Incidentally, Typar's main competitor Tyvek is manufactured both in Virginia and in Luxembourg.) Read more in GreenSpec.
Vocomp is a low-VOC, water-based acrylic curing and sealing compound for concrete finishing. Vocomp-20, with VOCs of only 4 g/l, has short application and drying times. Made in York, PA, Vocomp products were developed as water-based emulsions to eliminate the use of hydrocarbon solvents. Read more in GreenSpec.
SolarWall is an unglazed transpired solar collector that uses perforated sheet metal to preheat ventilation air. The manufacturing process begins in Toronto, ON, and is finished across Lake Ontario in Buffalo, NY. The metal cladding is attached several inches from the exterior of a (usually) south-facing wall, where it is heated by the sun. Fans draw air in through the perforations; as the air warms, it rises behind the cladding and is ducted into the building. Read more in GreenSpec.
Milk Paint is made from casein (milk protein) mixed with lime, clay, and earth pigments. Manufactured in Groton, MA, Milk Paint is sold in powder form, greatly reducing the energy used in shipping, with the customer adding water to make a pint, quart, or gallon size. Milk Paint is available in 20 historical colors, which can be blended or tinted. Read more in GreenSpec.
Like Vermont Natural Coatings' other products, PolyWhey floor finish is manufactured in Hardwick, VT, using waste whey protein from the local cheese industry as a binder. This low-odor coating contains no toxic heavy metals and has VOC levels less than 180 g/L. Read more in GreenSpec.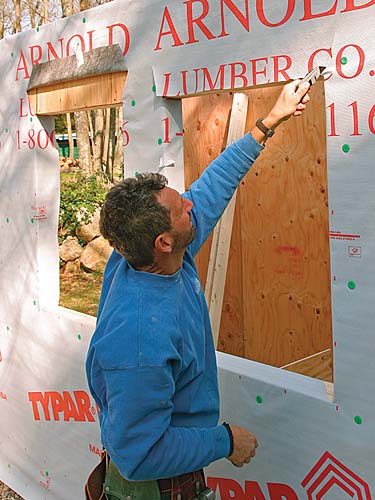 Some of the highest-performing and most popular housewrap products are made in the USA. Photo: Fine Homebuilding
Green building can create green jobs
Some of these companies have been manufacturing in the U.S. for decades, while some were more recently founded with an explicit desire to create domestic jobs. And in a refreshing development, some companies are even bringing their operations back to the U.S. Neutex Lighting in Houston, TX, is moving its LED lighting plant from China to Houston; according to local TV station KTRK, manufacturing should begin by April.
Whatever your reasons for "buying American," finding products can be a challenge--searching store shelves for a U.S.-made needle in a haystack--and even manufacturer websites don't always mention their domestic production and may require a phone call to confirm.
We at GreenSpec want to know: What products do you try to source domestically? Which ones are particularly hard to find? Do they tend to be more expensive, and if so, is that offset by better performance?
Published March 22, 2012 Permalink Citation
(2012, March 22). 10 Green Building Products They Still Make in the U.S.. Retrieved from https://www.buildinggreen.com/news-article/10-green-building-products-they-still-make-us