Blog Post
Caroma's Redesigned H2Zero Urinal
January 28, 2010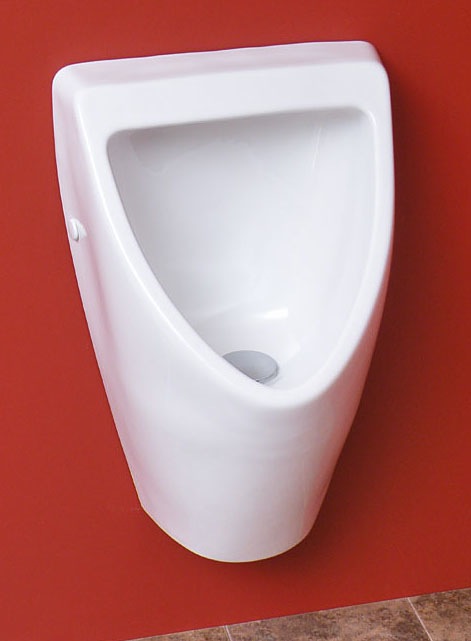 Environmental Building News
first introduced waterless urinals to the green building community--back in February 1998 in a product review of the
No-Flush Urinal
from the
Waterless Company
. In the 12 years since then, we've profiled as many as a dozen waterless urinals as they've entered the market.
Most waterless urinals, including those from industry pioneers Waterless Company and Falcon Waterfree Technologies, rely on a plastic cartridge that holds a lighter-than-urine vegetable-oil fluid that serves as the sanitary trap (preventing sewer gases from entering the restroom). Though water savings are dramatic, there are at least four problems with this approach:
The fluid is fairly expensive and has to be replenished periodically;
The cartridges become clogged and have to be replaced periodically, which costs money and generates non-recycled solid waste;
If these waterless urinals become very common, the plant oil trap fluid may become a problem at sewage treatment plants; and
Without periodically flushing a larger volume of water down the urinal drain, uric acid salts may build up and eventually clog the drain pipes.
This latter problem is a significant--as we have learned at our BuildingGreen office, where we've used a waterless urinal since 1998. A few years ago we removed ours to figure out why the drainage had deteriorated so significantly and found tremendous salt build-up. It wasn't a pretty picture, and it took some messy work to ream out the pipes! Here's our EBN article from 2004 addressing problems with waterless urinals:
"Why Non-Flushing Urinals Fail (And How to Prevent Those Failures."
Caroma, the Australian company that pioneered dual-flush toilets several decades ago and remains a world leader in water-conserving plumbing fixtures, has a great solution to these problems.
Caroma's H2Zero urinal features an elastomeric mechanical seal--a curled airtight diaphragm made of silicone. Urine flows through this seal, then it closes off until the next use. There is no plant-oil fluid required to achieve the sanitary seal--so there's no fluid to replace and nothing that might make the sewage treatment plant have to work harder.
We reviewed this urinal in EBN when it was first introduced from Australia in 2007--before any of the urinals had been installed here. The problem was that it didn't satisfy U.S. plumbing codes, which require a liquid trap for sewer gases, an issue that has also spelled problems (covered in this article) for an alternative trap meant to last a "lifetime."
Caroma argues that this requirement for a liquid trap is silly and unneeded, but the company realized that it would be easier to redesign its H2Zero urinal than to change U.S. plumbing codes, and that's what it did.
The new H2Zero urinal, introduced at the 2009 Greenbuild conference in Phoenix last November, has the same elastomeric, mechanical seal as before, but downstream from that is a liquid trap provided by urine. Because there's an airtight mechanical seal above the urine, there isn't a problem of odors from the urine entering the restroom, and the liquid trap satisfies our plumbing codes.
Caroma suggests that the elastomeric seal should be replaced after 10,000 uses, but the seal is likely to last much longer in typical applications.
SUPPORT INDEPENDENT SUSTAINABILITY REPORTING
BuildingGreen relies on our premium members, not on advertisers. Help make our work possible.
See membership options »
A big advantage is that custodians can pour a bucket of water down the urinal periodically to help keep uric salts from being deposited on the drain lines--and this can happed without washing an expensive plant-oil trap fluid down the drain.
Though I haven't had personal experience with the product, I think this is likely to prove to be the best waterless urinal out there.
A quick check of online prices found the H2Zero going for $550 to $650.
For more information:
Caroma USA
800-605-4218
www.caromausa.comI invite you to share your comments on this blog. What's your experience been with waterless urinals or this product specifically?
You can also follow my musings on Twitter.
See more on this product in the GreenSpec Guide