Blog Post
Do adobe homes really work in all climates? – Book review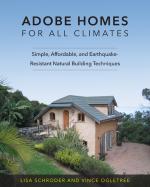 The weather is turning cold here in southern Vermont. A friend just got chased off the Long Trail (which she was hiking from the Massachusetts to the Canadian borders) by 18 inches of snow on Killington. While the leaves are still turning here in the Connecticut River valley, it's time to start huddling up by the fire and thinking cozy thoughts.
It was with this frame of mind that I excitedly cracked open Adobe Homes for All Climates Simple, Affordable, and Earthquake-Resistant Natural Building Techniques by Lisa Schroder and Vince Ogletree. It's another well-produced addition to the library of natural building tomes offered by Chelsea Green Publishing.
Adobe Homes is filled with practical tips, gorgeous pictures, useful construction drawings, and step-by-step help for anyone looking to build adobe, whether a professional or a homeowner. There are tips on earthquake resistance for locations with seismic concerns. There is extensive guidance on the often-overlooked issue of setting up your site to mix, mold, dry, store, and build with adobe bricks. The book gets into finishes, integrating windows and doors, and a lot more.
Unfortunately for me, I wasn't looking at the book with this lens. Before I could really contemplate setting up a site for adobe production, I had to be sold on adobe for this climate. I was looking for ideas on cozy earth building in a climate with 7,500 heating degree days (many of them cloudy, for days at a time), 500 cooling degree days, and a distribution of those heating degree days throughout 12 months. And an adobe structure in this climate will be an energy hog, because, as the authors note, adobe has a very low R-value.
In short, the "for all climates" tagline, which drew me in, is a stretch. Yes, there is a suggestion to add a layer of insulation in colder climates (mentioned in the inspiring foreword by Bruce King, and in a subsequent paragraph in the book). Yes, there are nice pictures of snow-covered Rocky Mountain adobe (which may be cold--at times--but gets a lot more sun, making adobe a better choice). But building an adobe wall and adding insulation to it for this climate requires at least a whole chapter (more than the paragraph currently devoted to it), and perhaps a whole book. Here are some questions that this "missing" chapter might help answer:
SUPPORT INDEPENDENT SUSTAINABILITY REPORTING
BuildingGreen relies on our premium members, not on advertisers. Help make our work possible.
See membership options »
What kind of insulation works well with an adobe structure?
How much is needed?  
Should the insulation be interior of the adobe, exterior of it, or both?
What are the benefits of building adobe and also a secondary insulation system? Why is it worth doing versus just using another construction system?
What construction and moisture details are necessary for adobe to be durable through a cold, wet, winter?
How does the addition of insulation affect the vapor profile of the adobe wall? Any issues to watch out for
I hope these will be considered in future editions or articles by the author. In the meantime, this looks like a great resource for natural builders in climates where adobe makes more sense--most classically, the Southwest U.S.
Correction: I realized after posting this article that Vince Ogletree passed away in 2005, well before this book was published. From the bio in the book, it sounds like he was a dedicated and generous natural builder. I had called for the "authors" to return to the points I outlined, but I feel that was insensitive to Vince's memory; I have changed this to the "author."
Published October 26, 2010 Permalink Citation
(2010, October 26). Do adobe homes really work in all climates? – Book review. Retrieved from https://www.buildinggreen.com/news-article/do-adobe-homes-really-work-all-climates-–-book-review