Blog Post
Gypsum Board: Are Our Walls Leaching Toxins?
By any name--drywall, wallboard, or plasterboard--gypsum products may not be as innocent as we once thought.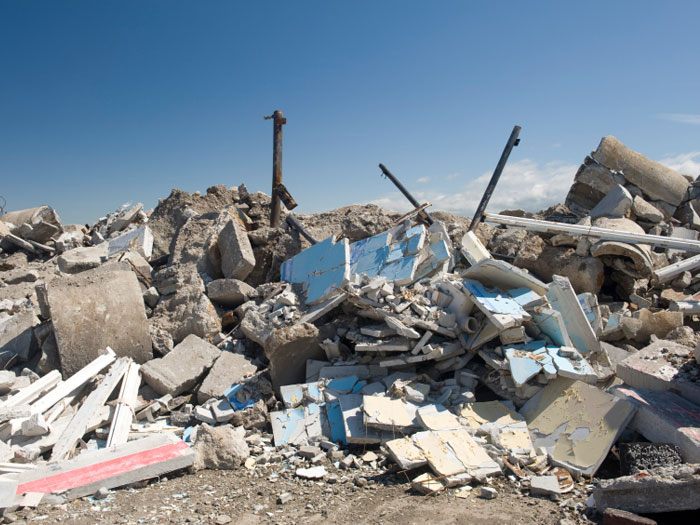 Drywall, which makes up 15% of demolition and construction waste, leaches toxins and releases hydrogen sulfide gas in landfills.
Virtually ubiquitous in our buildings, gypsum board is widely seen as an innocuous building material. However, in the last decade, Chinese drywall has been linked with indoor air quality problems, while concerns have cropped up around waste from coal power plants and its links to drywall.
Domestic manufacturers are quick to point out that gypsum board manufactured in the U.S. has not been linked to indoor air quality problems, but potential leaching of heavy metals and biocides included for mold resistance are among the issues that need to be addressed more thoroughly by the gypsum board industry.
Synthetic gypsum and mercury
Synthetic gypsum is created from a byproduct of flue-gas desulfurization (FGD), a process coal-fired power plants use to limit emissions. Although the chemical process that captures FGD gypsum is different from the physical collection of fly ash and bottom ash, which is more likely to pick up heavy metals as a matter of course, mercury and other heavy metals are showing up in synthetic gypsum--and, as a result, in our buildings.
In 2010, the U.S. Environmental Protection Agency (EPA) released a study of total content and leaching values of heavy metals in synthetic gypsum, which found that these chemicals could have leaching values of up to 550 times the level for safe drinking water. Total content, on the other hand, never exceeded a measurement of 100 ppm--a difficult feat considering that 100 ppm is the threshold for disclosure in the most rigorous green chemistry programs. Further, gypsum board commonly achieves indoor air quality certifications, such as Greenguard Children & Schools, suggesting that drywall is not a problem for indoor environmental concerns.
Gypsum becomes poisonous gas in the landfill
However, when drywall reaches landfills--and it does so in vast quantities, as it constitutes about 15% of all construction and demolition debris--it can leach these toxic chemicals into groundwater. And in the anaerobic conditions of landfills, bacteria convert gypsum into hydrogen sulfide, a poisonous gas.
Unfortunately, post-consumer gypsum board is commonly diverted from landfills to be used as a soil amendment in agricultural settings. If we have restrictions to prevent these toxic chemicals and heavy metals from being spewed into the air by power plants, is it really a good idea to add them straight into our soil?
SUPPORT INDEPENDENT SUSTAINABILITY REPORTING
BuildingGreen relies on our premium members, not on advertisers. Help make our work possible.
See membership options »
Fungus among us vs. biocides on our insides
As if heavy metal content weren't enough, biocides are commonly used in mold-resistant products because paper-faced gypsum can develop mold if not installed properly. When gypsum is used as a soil amendment, moisture in the soil causes these toxic chemicals to leach into the earth as well.
Raising the standard for drywall
Fortunately, the industry is beginning to address these issues. Steps are being taken to develop an Environmental Product Declaration (EPD) for gypsum board (see "The Product Transparency Movement: Peeking Behind the Corporate Veil," EBN Jan. 2012). Although ULE's 2010 standard based on life-cycle analysis hasn't had the kind of adoption GreenSpec would like to see, many paths toward healthy building materials--and healthier gypsum board in particular--are being explored.
Buyers can use market pressure to encourage this shift--and avoid including toxic building materials in your building projects--by following these steps:
Choose domestic: Regulations in the U.S. maintain minimum safety standards for gypsum board, and domestic drywall has not (yet) been linked to the Chinese drywall debacle.
Avoid waste: Look for gypsum products with post-consumer recycled content, and avoid waste during drywall installation at the construction site. GreenSpec lists domestic manufacturers that have made strides in post-consumer content.
Avoid indoor air quality problems: Select Greenguard- or ULE-certified gypsum board to ensure a healthy interior. GreenSpec lists domestic manufacturers that are certified to indoor air quality standards.
Specify inert products: Wet paper-faced drywall is a perfect medium for mold growth, making any biocides included in drywall for mold prevention just a Band-Aid. If you're serious about mold prevention, particularly in settings or locations (like the first floor in a flood-prone area), specify non-paper-faced drywall, like the fiberglass-faced products listed in GreenSpec.
Keep your eyes open for new data in the drywall industry. Send us any tips you might have, and let us know your opinion in the comments below.
Published March 14, 2012 Permalink Citation
(2012, March 14). Gypsum Board: Are Our Walls Leaching Toxins?. Retrieved from https://www.buildinggreen.com/blog/gypsum-board-are-our-walls-leaching-toxins