Blog Post
Avoiding the Global Warming Impact of Insulation
Can insulation materials, which we use to save energy and help prevent climate change, cause greenhouse gas emissions?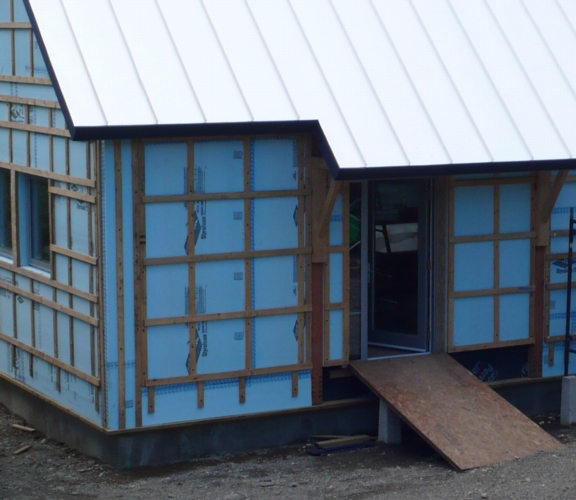 Can insulation materials, which we use to save energy and help prevent climate change, cause greenhouse gas emissions? Yes, in two ways. First, it takes energy to produce and ship these materials--which we refer to as "embodied energy"--and using fossil fuels for these energy needs releases carbon dioxide (our most significant greenhouse gas). So in a sense, all insulation materials have embodied global warming potential (GWP). Second, two of our common insulation materials are made with hydrofluorocarbon (HFC) blowing agents that are very potent greenhouse gases. Extruded polystyrene (XPS), best known by the brands Dow Styrofoam ("blueboard") and Owens Corning Foamular ("pinkboard"), insulates to R-5 per inch and is made with HFC-134a, which has a GWP of 1,430--meaning that it's 1,430 times as potent a greenhouse gas as carbon dioxide. (I have to note here that I'm not 100% sure that XPS is made with HFC-134a; manufacturers are unwilling to divulge the exact blowing agents they use, saying the information is proprietary, and material safety data sheets have not been updated yet to reflect the new blowing agents that were required as of January 1, 2010. But various hints in technical literature have led me to believe that this is the blowing agent being used.) The other insulation material made with a high-GWP blowing agent is closed-cell spray polyurethane foam (SPF). This insulation material is sprayed into building cavities, onto a foundation walls, or onto roofs, and it insulates to about R-6 per inch. Most, but not all, closed-cell SPF is made with HFC-245fa, which has a GWP of 1,030. Some closed-cell SPF is water-blown, thus avoiding this concern, though the vast majority is HFC-blown. Open-cell (low-density) SPF, such as Icynene, is all water-blown, so has a very low GWP. Lifetime GWP A blowing agent with a high GWP is only problematic if that chemical leaks out over time and, unfortunately, not much is known about how quickly this occurs. Some researchers, such as L.D. Danny Harvey, Ph.D., of the University of Toronto (who first raised the concern about the high GWP of foam insulation materials in a technical article a few years ago), has assumed that a large majority of the blowing agent leaks out over time, but based on conversations with technical experts in the industry, our analysis in Environmental Building Newsadopts a more conservative assumption that only 50% leaks out over the life of the insulation--which could be 50 years or 500 years.
Click the image to view the table.
When we combine these two sources (embodied GWP and GWP related to the blowing agent used) for an insulation material, we arrive at the "lifetime GWP" of these materials. For insulation materials made with HFC blowing agents, the vast majority of the total GWP comes from the blowing agent. See the table for the assumptions we used in the EBN article. Payback of lifetime GWP
Click the image to see an expanded version of the chart.
SUPPORT INDEPENDENT SUSTAINABILITY REPORTING
BuildingGreen relies on our premium members, not on advertisers. Help make our work possible.
See membership options »
If we then calculate how much energy a given amount of insulation will save over its life (which depends on where the house is located and how efficient the heating system is) we can calculate the "payback" of the lifetime GWP in the insulation. In other words, this is the length of time it will take for the energy savings from the insulation to pay back the greenhouse gas emissions that will result from the use of that insulation. With the help of John Straube and Daniel Bergey of Building Science Corporation in Westford, Massachusetts, we calculated the paybacks for adding different amounts of these insulation materials. This is reported in the June issue of Environmental Building Newsfor those who want to see the analysis in more detail. We looked at adding R-5 increments of insulation to a 2x6 wall system insulated with dense-pack cellulose (whole-wall R-value of 14 for the starting wall). The energy model assumed the building is in a moderately cold Boston climate. This is shown in the two charts. The good news is that, except for XPS and HFC-blown SPF, the payback for the lifetime GWP of insulation materials is very low. If you add four inches of polyisocyanurate (R-25) to the 2x6 wall, for example, (R-39 total) the lifetime GWP payback for that added polyiso insulation would only be 2.7 years. Even if you go all the way to a final R-60 for the wall system (adding 7.5 inches of polyiso), the payback would be only slightly over four years.
Click the image to see an expanded version of the chart.
By comparison, if it's XPS you're adding to the 2x6 wall, the payback for that added insulation is much longer. Adding one inch of XPS has a 36-year payback. With two inches, the payback jumps to 46 years, and with four inches, 65 years. To go all the way to a final R-value of R-60 (adding about 9 inches of XPS) would have a payback of over 110 years. For SPF, the paybacks will be similar, though somewhat lower. Bottom Line – Avoid XPS and SPF So what does all this mean? These differences are dramatic enough that, even if our assumptions are off by a significant factor, we can draw some general conclusions about sensible choices. If we're building highly insulated buildings and doing so in part to mitigate global warming, we should use insulation materials other than XPS or SPF--at least until these insulation materials are produced with blowing agents that have far lower GWP. (Low-GWP blowing agents, such as hydrofluoroolefins, HFOs, are likely to be available from Honeywell and DuPont in the next few years, though it is unknown how quickly XPS and SPF manufacturers could convert to these or other compounds.) There are lots of good alternatives. Now that polyisocyanurate (a common foil-faced rigid insulation material sold under such tradenames as Thermax, ACFoam, and Rmax) is made with pentane as a blowing agent, its GWP is very low (the GPW of pentane is about 7). Expanded polystyrene (EPS or beadboard) is also made using pentane as a blowing agent. Open-cell SPF, such as Icynene, uses water as a blowing agent. Fiberglass, mineral wool, and cellulose do not use blowing agents at all. Note that XPS and closed-cell SPF offer some excellent performance properties (controlling moisture migration and airflow through the building envelope), so if we are substituting a different material, we have to address these building science issues carefully. The bottom line is that when we insulate our homes so that they will use less energy and thus help to mitigate climate change, we should be careful about which materials we use. Providing high levels of insulation with XPS or closed-cell SPF will counteract a lot of that well-meaning effort. I invite you to share comments on this blog. Will this information affect your choices of insulation materials?
Photo: Net-zero-energy house built by Bensonwood in which 4" of XPS was used over cellulose-insulated 2x6 walls. The GWP payback on the XPS in this house is about 65 years. Source: Bensonwood. Table and graphs from Environmental Building News, June, 2010.
Published June 1, 2010 Permalink Citation
(2010, June 1). Avoiding the Global Warming Impact of Insulation. Retrieved from https://www.buildinggreen.com/news-article/avoiding-global-warming-impact-insulation