Blog Post
Revised Air Conditioner Condensate Calculator Available on BuildingGreen.com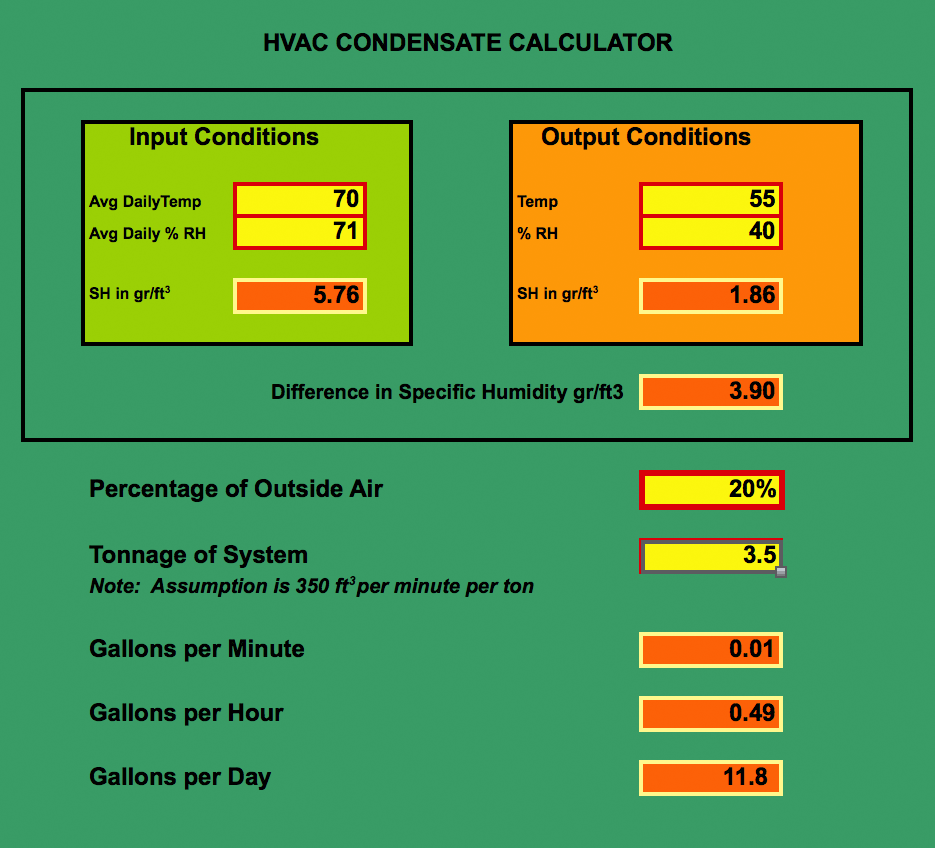 Back in 2008 when I wrote a series of articles for Environmental Building News on water, one of those articles, Alternative Water Sources: Supply-Side Solutions for Green Buildings, examined various ways of harvesting water and included an in-depth look at collecting air conditioner condensate.
Here's an excerpt from that article on how that condensate is generated:
Cooling systems rely on evaporator coils through which refrigerant fluid changes from liquid to vapor, cooling the coils in the process. Air blowing past the coils cools off as it goes by, and moisture from the air condenses on the coils. Condensate drains carry away the water, usually into the sewer. Instead of wasting it, more and more buildings, especially in parts of the country with hot, humid summers, are capturing that condensate for reuse. The city of San Antonio, Texas, has actively pursued this practice. It makes so much sense there because of the large cooling load and high humidity. The downtown Rivercenter Mall in San Antonio collects about 250 gallons of condensate per day, which is used to replenish the cooling tower losses, and the San Antonio Public Library collects about 1,400 gallons on condensate per day, which is used for irrigation. A six-month payback was calculated on the condensate-recovery system at the Rivercenter Mall.
When we ran that EBN article, we also provided an online calculator to assist designers or building owners estimate how much air-conditioner condensate could be recovered. Eddie Wilcut and Elliot Fry, of the San Antonio Water System (SAWS), developed the spreadsheet, and then Kelly Lucas on our staff "webified" it.
Users brought to our attention some problems with the condensate calculator, however, so we took it off our site.
SUPPORT INDEPENDENT SUSTAINABILITY REPORTING
BuildingGreen relies on our premium members, not on advertisers. Help make our work possible.
See membership options »
I'm pleased to report that the BuildingGreen Condensate Calculator is back up, following some refinements by the SAWS team and Kelly's work to incorporate those changes into the online version.
Have a look, and take it for a test drive. Feedback will be very welcome; use the comments field.
Alex also writes the weekly blogs on BuildingGreen.com: Alex's Cool Product of the Week, which profiles an interesting new green building product each week, and Energy Solutions. You can sign up to receive notices of these blogs by e-mail--enter your e-mail address in the upper right corner of any blog page.
Alex is founder of BuildingGreen, LLC and executive editor of Environmental Building News. To keep up with his latest articles and musings, you can sign up for his Twitter feed.
Published September 25, 2010 Permalink Citation
(2010, September 25). Revised Air Conditioner Condensate Calculator Available on BuildingGreen.com. Retrieved from https://www.buildinggreen.com/blog/revised-air-conditioner-condensate-calculator-available-buildinggreencom