Blog Post
Top-Performing Triple-Glazed Skylight From Wasco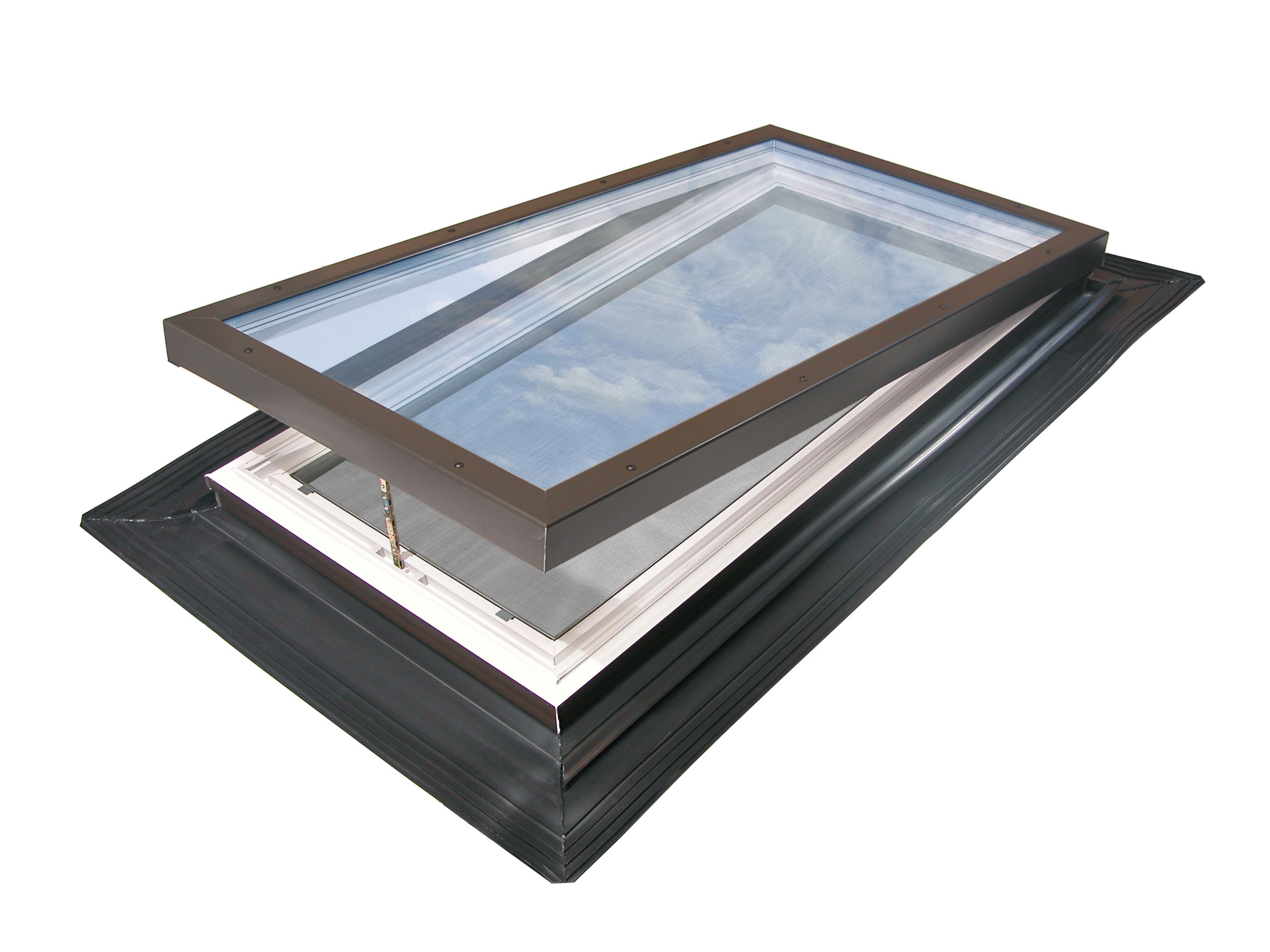 Wasco offers a new high-performance , triple-glazed, dual-low-e skylight that meets the 30-30 requirement for the federal tax credit. Photo: Wasco Products. Click on image to enlarge.
Wasco Products of Sanford, Maine, has raised the bar on energy-conserving skylights with its high-performance "Triple Glazed 30/30" option. In a fixed skylight, this glazing provides a unit U-factor of 0.27, or a unit R-value of 3.7; in the venting skylight, a unit U-factor of 0.29 (R-3.4). (Note that the "unit" R-values, which account for heat loss through the frame and glazing edges, are a lot lower than "center-of-glass" R-values--but much more accurate in conveying actual performance.)
Both fixed and venting options provide a Solar Heat Gain Coefficient (SHGC) of 0.22, meaning that just 22% of the total solar energy striking the glass gets through.
To provide a little context, the "30-30" designation on a window or skylight refers to a performance requirement developed for the current round of federal tax credits in which both the total unit U-factor and SHGC can be no higher than 0.30. With such a designation, windows can earn the $1,500 federal tax credit through the end of 2010. I love the 0.30 U-factor requirement for the tax credit. That's a level of performance that, at least for skylights, can't be achieved simply with double-glazing, a low-e coating, and argon gas-fill. To reach this level of performance (remember, the lower the number the less the heat loss), triple-glazing, multiple low-e coatings, or a lower-conductivity gas than argon is required. Thus, the requirement really pushes the industry. And a few companies have responded--such as Wasco.
While I like the 0.30 U-factor requirement for all windows, I've been critical of the "one-size-fits-all" tax credit requirement for a SHGC of 0.30 or lower. This level of SHGC performance makes sense for a lot of window applications, but it makes it difficult to benefit from passive solar heating (see my previous blog on this issue).
But it's a different story for skylights, which are usually installed in the roof plane, because unwanted solar heat gain is a much greater concern. For skylights, the 0.30 SHGC performance makes a whole lot of sense.
Thus, I was very excited to see the Wasco Triple Glazed 30/30 glazing option introduced earlier this year. It's a great product.
SUPPORT INDEPENDENT SUSTAINABILITY REPORTING
BuildingGreen relies on our premium members, not on advertisers. Help make our work possible.
See membership options »
More detail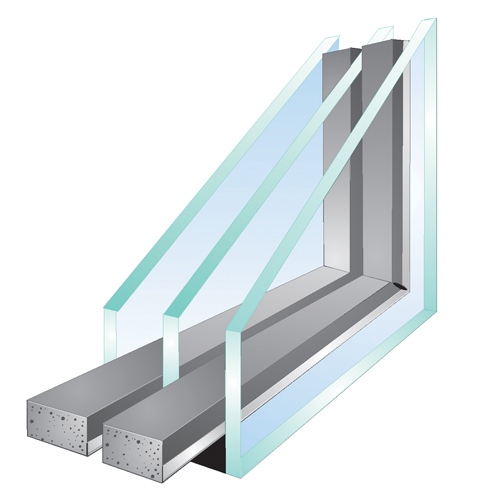 An advanced low-e coating is used on the #2 and #5 surfaces of the triple-glazed unit, and argon fills both spaces. Image: Wasco Products. Click on image to enlarge.
The triple-glazed 30/30 skylight has two low-e coatings: one on the #2 surface and another on the #5 surface (with glazing, surfaces are numbered from the outside in). These aren't standard low-e coatings, but the latest low-e from Cardinal Glass that has a triple coating of silver to improve energy performance over the low-e2 (squared) product that has been the standard low-e for the past 15 years of so. Wasco calls this coating eMAX3 (cubed).
Both of the inter-glazing spaces in the triple-glazed 30/30 skylights are filled with argon to further improve performance. Total insulation performance with this glazing option is 55% better than that of standard skylights with double-glazed, clear glass.
In addition to the U-factor and SHGC properties noted above, this skylight blocks 95% of fabric-damaging ultraviolet light. Yet it provides a very respectable visible light transmittance of 43% (fixed models) or 42% (venting models). This means that daylighting from the skylight and views through the skylight will be very good.
Wasco Products also offers a diffusing skylight in which the space between the layers of glass is filled with Nanogel, a silica aerogel product from Cabot Corporation. Unique properties of silica aerogel result in very high energy performance, with an insulating value of R-8 per inch.
For more information:
Wasco Products, Inc.
Sanford, Maine
800-388-0293
Alex Wilson is the executive editor of Environmental Building News and founder of BuildingGreen, LLC. In addition to this product-of-the week blog, he writes the weekly Energy Solutions blog. To keep up with his latest articles and musings, you can sign up for his Twitter feeds. Products covered in his product-of-the-week column are--or soon will be--listed in BuildingGreen's GreenSpec Directory.
See more on this product in the GreenSpec Guide
Published July 22, 2010 Permalink Citation
(2010, July 22). Top-Performing Triple-Glazed Skylight From Wasco. Retrieved from https://www.buildinggreen.com/news-article/top-performing-triple-glazed-skylight-wasco